Register Today! GSU's Next High School Day, February 16, 2019
It's never too early to start the path to become a Tiger! This Spring Grambling State will welcome thousands of families, prospective students, and leaders to its 2019 Spring High School Day – February 16.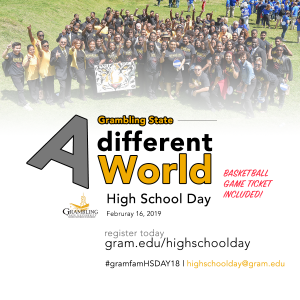 High School day is a high-energy, day-long opportunity to experience college. Students from high schools across the state and nation will get to experience:
Campus Tours
Lunch & Games
Academic Counseling
Dance Performances
Marching Tiger Band
Student Organizations
Residence Hall Preview
& More
Visit www.gram.edu/highschoolday to register and download more information.
A Grambling State Different World
Spring High School Day
February 16, 2019 | 10 a.m.
www.gram.edu/highschoolday
Apply Now!
You don't have to wait to submit your application. Early applicants could receive on-the-spot admission at High School Day. Contact admissions@gram.edu to learn more.