Grambling State Student Entrepreneurs Win $10,000 in Startup Support
BRF's Entrepreneurial Accelerator Program invests cash and training in GSU's Golden Pitch Winners
This week, seven Grambling State University student entrepreneurs were rewarded more than $10,000 in support for their startups through the Golden Pitch Business Model Competition sponsored by BRF's Entrepreneurial Accelerator Program (EAP).
"This competition is helping young innovators hone their business skills and bring to life their own dreams," said Donald White, Dean of the College of Business. "They're learning that their innovative ideas can become much more than a thought — they have viable businesses they are growing."
The Golden Pitch, one of three Louisiana university business plan competitions that make up the Grand Prix program, attracted 14 student teams from Grambling State University. Student entrepreneur teams received training and mentorship from local entrepreneurs, investors, and faculty members in hopes of winning one of three cash prizes, scholarships to Louisiana Startup Prize 2019 and the Patent Academy, and one year of business services from EAP.
This year's winners include: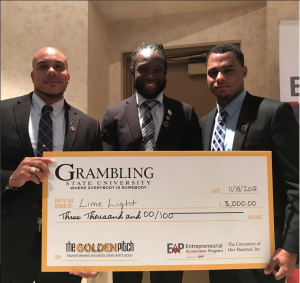 $3,000 Cash Grand Prize Winners
Jarrid Richards, Kerwan Antoine, and Casey Henry
$1,000 Cash Runner Up
Sherdica Moses
$500 Cash Third Place
Latina Jones and Faron Rush
"One of EAP's objective is to foster entrepreneurial education at the university level," said Dave Smith, Executive Director of EAP. "We think the best way to grow an entrepreneurial-minded ecosystem is to expose students to an environment that celebrates their innovation. Through EAP's Grand Prix college business plan competitions, we are guiding students and young entrepreneurs in growing their businesses, taking them from concept to reality."
For more information on this year's winning ideas or the Golden Pitch, please contact mediarelations@gram.edu or (318) 243-5012.