GRAMBLING STATE'S PONTON INDUCTED INTO SWAC HALL
Recognized by Southwestern Athletic Conference for his performance as a student-athlete at Southern in Baton Rouge, Ponton is pleased with GramFam love

By JASMINE HARRIS/GSU Media Bureau
HOUSTON — David "Rusty" Ponton can be found running from one side of Grambling State University's campus to another, always on a mission for students. On Saturdays in the fall, he is on the sideline at home and away games, rooting for the G-Men.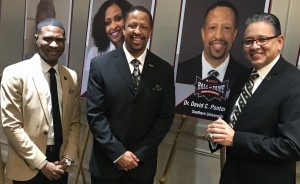 He was running from one place to another back in the 1980s, only it was on the campus of Southern University A&M State University as a jaguar attending GSU's primary in-state rival on the Baton Rouge bluff.
Ponton was inducted to the 2017 Southwestern Athletic Conference Hall of Fame for his time playing as the Jaguars' point guard, including a 1985 SWAC championship. He was one of nine league contributors honored Thursday (Nov. 30) at a Hall of Fame Induction ceremony at The Westin Galleria in Houston. When he got the initial call, Ponton was surprised.
"I got a call from Southern saying that I was being nominated for the award and I was like, 'Wow, you all still remember me?" said Ponton, vice president of student affairs at Grambling State, "and they were like, yes, of course we remember you Rusty."
Ponton's name is etched in Jaguars basketball lore as one of the top point guards in the SWAC during the mid-1980s. Ponton led the Jaguars in steals and assists in 1983 and 1985-86, and he led the Jaguars to the program's second NCAA tournament berth in 1985.
A longtime friend, Keith Benton, was elated when he heard about Ponton's induction. He described Ponton as an energized guy, a hustler, a go-getter and a crowd pleaser.
Ponton was one of Southern's greats, but the same could be said about his time at Grambling, said Benton.
Ponton was handed the coaching baton when he took leadership of the Lady Tigers leading them to consecutive success. Under his tutelage, the Lady Tigers had near unprecedented success on the hardwood, claiming three straight conference crowns from 1997-99. He was selected as coach of the year three times during his tenure.
However, he was more than a coach. He served as a mentor, guiding students' academic success and contributing to good life choices.
"Something that people would not realize is that my favorite moment is when I see my student athletes cross that stage and get that degree," said Ponton. "The promise that I always made to them was that if you come here, work hard, we are going to win championships; but, you are going to graduate."
Ponton was an assistant coach for the G-Man basketball team in 1988, the year Grambling took home the SWAC tournament championship. After his coaching days, Ponton transitioned into administrative roles at Grambling State University, serving for nearly 30 years.
Grambling State President Rick Gallot was thrilled to have one of his top leaders being recognized for his time at Southern. He said Ponton is an exceptional individual whose done so many things in higher education at Grambling — and at Southern.
"We at Grambling State are grateful to Dr. Ponton for all he contributes to our campus," said Gallot. "It's a joy to se him recognized for the contributions he's made throughout his academic, athletic and professional career."
The president said Ponton's Hall of Fame honor is "an inspiration to all of our current and former student athletics" and his accomplishments are evidence "that when we do the work and follow our God-given passion, success and recognition are achievable."
###