Office of the President
---
2012 MID-YEAR BUDGET ADJUSTMENTS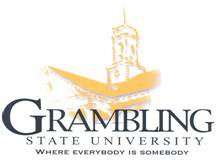 Office of the President
To: The Grambling State University Family
From:

Frank G. Pogue, Ph.D.
President
Subject: 2012 MID-YEAR BUDGET ADJUSTMENTS
Date: January 2, 2012
Happy New Year and welcome back home!
As we have discussed far too many times, the State of Louisiana's budget continues
to decline. And, as you have read, the mid-year budget reduction for higher education is $50 million, of which $17,175,883 represents the University of Louisiana System's share of the reductions. Grambling State University's mid-year cut is $943,729. Utilizing the university's established planning process and budget reduction strategies previously developed by the university's Budget and Priorities Committee enabled the university to submit its Mid-Year Reduction Plan.
The reduction of funds will affect the following categories:
Salaries & Related Benefits: Eight unfilled vacancies will remain unfilled.
Professional Services: Settlement payment for the Spears' lawsuit will be impacted.
Reduction in Scholarships/Waivers: Student out-of-state fee waivers will be reduced.
These current mid-year cuts, after previous drastic cuts, will continue to make it
difficult to plan. As we have done in the past, and will continue to do so in the future, we will work together to restructure the university in order to protect our mission and ensure that our students will receive an excellent education in a wholesome and supportive academic environment.
An announcement will be made for a University-wide Mid-Year Planning Session which will focus on current and future budget reductions as well as updates on the university's achievements and challenges.
As we welcome the New Year, let us continue to focus on those special institutional qualities and practices that have made Grambling State University uniquely great.
P.O. Drawer 607 - 403 Main Street - Grambling, LA 71245 - Office: 318-274-6117 - Fax: 318-274-6172 - www.gram.edu
A Constituent Member of the University of Louisiana System - Accredited by the Southern Association of Colleges and Schools
An Equal Opportunity Employer and Educator - Facilities Accessible to the Disabled