Office of the President
---
PRESIDENT"S SOCIAL MEDIA POLICY STATEMENT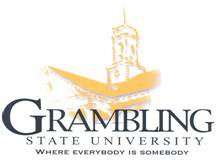 Office of the President
January 16, 2014
Grambling State University Family,
As Grambling State University continues moving forward in the high-tech age, incorporating a variety of Internet and social media into the academic and business operations of the university must be an important part of what we do. It's important to integrate social media into our academics as we educate students. It's something we must incorporate into appropriate business aspects of our operations. It's definitely something we must use to connect with, and stay connected with, students and alumni.
A number of GSU associations, colleges, departments, offices and units use, or want to use, such social media sites as Blogger, Facebook, Instagram, Pinterest, SnapChat, tumblr., Twitter, YouTube, RSS feeds and other social media sites to connect and engage with various GSU communities. Because social media is a great way to stay in contact with your audience - whether it is alumni, colleagues or prospective students.
We will compile a list of officially recognized and sanctioned Grambling State University social media sites – with your assistance. Social media is easy, for those who want to use it. It is accessible to almost anyone who has a computer, a smartphone or a tablet with Internet access. Increasingly, we are in touch with potential GSU students via social media, answering questions about admissions, informing alumni and students about university events and even getting a lot of support to pursue online contests such as the Allstate/Tom Joyner Foundation "Quotes for Education" contest.
We are not requiring everyone to use social media. However, there are some duties and responsibilities that increasingly require us to incorporate social media into what we do. To help you best represent Grambling State University as you use these tools, please refer to GSU's Social Media Policy. This policy is similar to others at businesses, colleges and universities. Our university policy committee approved and made official this policy in late August 2013. We may revise this policy from time to time. Meanwhile, with this letter, I ask that all Grambling State University associations, colleges, departments, divisions, offices and units comply with our social media policy by entering the requested information at http://gsunet/docs/socialmedia.asp for EACH social media account. If an association has two social media accounts with two or more people as account holders, both social media accounts must be registered with each person's name. If one person in an office is the account user for each of three social media sites, that person needs to complete a form for each of the sites.
In addition, you may consider using Mashable Social Media, a site focused on the latest in social media trends and use. It is one resource you can use to consider how best to incorporate social media tools to best position our institution.
No one individual at GSU is a social media expert with sole responsibility for social media. As we all continue to educate ourselves about these sites, we can and should rely on advice and help from others while being willing to share what we learn. Our communications and public relations director, Will Sutton, is on social media daily. He tells me he is primarily on Facebook, LinkedIn and Twitter, and visits other social media sites regularly. If you have a social media idea, or a question, contact Will. He's at mediarelations@gram.edu.
As our official Grambling State University social media sites are recorded, we'll increase our ability to communicate effectively – and often instantly – with each other.

Sincerely,


Frank G. Pogue, Ph.D.
President
FGP:jpb
P.O. Drawer 607 - 403 Main Street - Grambling, LA 71245 - Office: 318-274-6117 - Fax: 318-274-6172 - www.gram.edu
A Constituent Member of the University of Louisiana System - Accredited by the Southern Association of Colleges and Schools
An Equal Opportunity Employer and Educator - Facilities Accessible to the Disabled
Additional Information: