Office of the President
---
PRESIDENT'S STATEMENT ON PASSING OF EDDIE ROBINSON JR.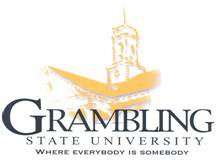 Office of the President
November 7, 2013
To the Grambling State University Community:
We regret to inform you that one of Grambling State University's favorite sons passed away last night. Eddie G. Robinson Jr., son of our legendary football coach, Eddie G. Robinson Sr. and a strong professional and upstanding man in his own right, died from complications from a recent heart surgery.
The Doris Robinson family reached out to the university last night to notify us of Eddie Jr.'s passing. He died at the Baylor University Medical Center at Dallas at about 8:00 p.m.
The university has offered the Robinson family its support and we will assist the family as needed.
We ask that everyone support Mrs. Robinson and the Robinson family in their time of grief and keep them in your prayers. The official family statement follows.

Frank G. Pogue, Ph.D.
President
FGP:jpb
P.O. Drawer 607 - 403 Main Street - Grambling, LA 71245 - Office: 318-274-6117 - Fax: 318-274-6172 - www.gram.edu
A Constituent Member of the University of Louisiana System - Accredited by the Southern Association of Colleges and Schools
An Equal Opportunity Employer and Educator - Facilities Accessible to the Disabled
OFFICIAL STATEMENT
FROM THE FAMILY OF EDDIE ROBINSON JR.
It is with indescribable sorrow that we share the news that our beloved Eddie Robinson Jr. has passed away due to complications resulting from heart surgery.
Eddie, who shared his father Eddie Robinson Sr.'s life-long love for football and the student-athletes who fondly refer to him as "Coach Jr.," was a cherished husband to his late wife, Gloria, our son, father, grandfather, brother, uncle and friend to many.
Eddie cared for his family unfailingly and without complaint and continued to contribute his time and skills to the Grambling State University football program through last season.
It was, perhaps, Eddie's passion for sports and the youth that define him best. Each year, he looked forward to hosting summer football camps in honor of his father and enlisting colleagues and friends to impart fundamentals of the sport and life lessons on camp participants.
Our family is grateful for the outpouring of love and support we continue to receive. We ask for your continued prayers as we look to God for our strength and understanding.
Mrs. Doris M. Robinson and the Robinson Family