Office of the President
---
Letter to GSU Family - December 7, 2011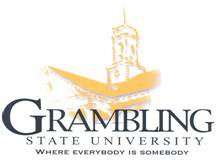 Office of the President
December 7, 2011
Dear Grambling State University Family:
Attached is a letter from Dr. Randy Moffett, President of the University of Louisiana System, congratulating Grambling State University on reaching all of our targets for the 2010-2011 GRAD Act reporting year.
This is exciting news for the university and an indication that we are moving in the right direction to achieve our goals.
I would like to thank the entire GSU family for working together to achieve this outstanding and successful evaluation. Although we have much work ahead of us, as long as we remain focused and continue to work together, we will achieve and surpass this excellence.
Sincerely,



Frank G. Pogue, Ph.D.
President
FGP:jj
P.O. Drawer 607 - 403 Main Street - Grambling, LA 71245 - Office: 318-274-6117 - Fax: 318-274-6172 - www.gram.edu
A Constituent Member of the University of Louisiana System - Accredited by the Southern Association of Colleges and Schools
An Equal Opportunity Employer and Educator - Facilities Accessible to the Disabled
Click here for Letter from Dr. R. Moffett Regarding 2010-11 GRAD Act Reporting Year (PDF)