High Ability Program
---
Letter From the Director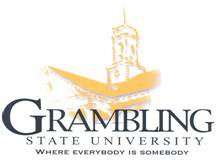 Office of the Provost and Vice President for Academic Affairs

June 10, 2013
Dear High Ability Student,
We are excited about your participation in the 2013 Summer High Ability Program on the campus of Grambling State University (GSU). The program will begin with an Opening Session at 10:00 a.m. on Saturday, June 22, 2013 in the Floyd L. Sandle Theatre, located in the Conrad Hutchinson Performing Arts Center.
Check-in times for Housing will be from 8:00 a.m. to 9:45 a.m. and from 12:00 noon to 2:00 p.m. on Saturday, June 22, 2013. Female students will be housed in Jewett Hall. Male students will be housed in Knott Hall. A list of items that will assist in making GSU your "Home Away From Home" is enclosed.
If you, in collaboration with you parent(s)/guardian(s), elect to apply your $200 academic stipend towards the $500 fee, the remaining $300 balance must be paid by Monday, June 24, 2013 via check or money order made payable to Grambling State University. If you pay the entire $500 fee, you will receive your $200 stipend at the end of the program. There are no additional funds required for textbooks. We will loan you the textbooks that you will need. Checks may be mailed to GSU High Ability Program, GSU Box 4288, Grambling State University, Grambling, LA 71245. Payments may also be made during Registration on Monday, June 24, 2013.
You have been assigned a "G" number that will be provided to you upon your arrival to campus. Your "G" number will be used during the registration process. You will be required to enroll in MATH 147 Pre-Calculus I or MATH 148 Pre-Calculus II (If you test out of MATH 147.), and you may choose a second course from the following list of courses:
| | |
| --- | --- |
| Art Appreciation (ART 105) | Basic Photography* (MC 250) |
| French I (FREN 101) | Spanish II (SPAN 102) |
| Fundamentals of Public Speaking (THEA 212) | Western Civilization (HUM 201) |
*Must bring a SandDisk Ultra Compact Flash Card (at least 2 to 4 GB) and 3 blank CD's.
Please email the second course you wish to take to loydk@gram.edu and we will enroll you in the course.
A Daily Schedule of Activities for the 2013 High Ability Program will be provided to you during the opening session.
High Ability Students are allowed to leave the campus on the weekends only with persons authorized to pick you up from campus. Your parents will be required to complete and submit an authorization form upon your arrival to campus.
On Saturday, July 6, 2013, High Ability Students will travel to Cajun country near Lafayette for a tour into a Louisiana swamp. This experience will be unforgettable, educational and entertaining.
If you have additional questions, please call us at (318) 274-6141 or email us at loydk@gram.edu.
Again, we look forward to your participation in the 2013 Summer High Ability Program.
Best Regards,

Connie Walton, Ph.D.
Provost and Vice President
CW:lml

P.O. Box 4308 • 403 Main Street • Grambling, LA 71245 • Office:(318) 274-6220 • Fax: (318) 274-3253
A Constituent Member of the University of Louisiana System • Accredited by the Southern Association of Colleges and Schools•An Equal Opportunity Employer and Educator • Facilities Accessible to the Disabled
Click here for "Home Away from Home" Information
Click here for PDF.