Definition of Service-Learning
---
Academic Service-Learning is a teaching and learning strategy that integrates meaningful community service with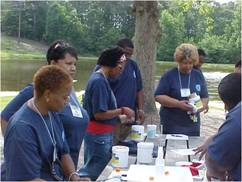 instruction and reflection to enrich the learning experience, teach civic responsibility, and strengthen communities. Also known as "pure" service-learning.
Community Service Service-Learning is services volunteered by individuals or an organization to benefit a community or its institutions
Requirements
Students are required to complete at least 160 hours of service-learning activities prior to graduation.
Eighty (80) hours through "pure" service-learning activities (approved courses) and eighty (80) hours of approved civic engagement activities or community service projects.
The following courses are designated as service-learning courses: English 101; English 102; Mathematics 147 and 148; History 101; History 104; Social Science 101 FYE 101; FYE 102; HON 110; and ED 101 and other courses per request.
Approval is required each semester to ensure that projects fit the cycle of service-learning.
All projects and courses must be approved by the Office of Service-Learning prior to the beginning of the project in order to qualify.