Career Fair Letter to Employers
---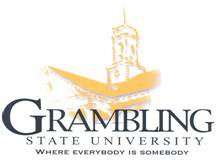 Office of Career Services
Fair Letter to Employers
Dear Employer:
The Office of Career Services at Grambling State University invites you to participate in our Career Fairs. The Fairs are the Annual Lonnie Smith Career Fair, Annual Athletes Fair, Spring Graduate and Professional School and Career Expo, Social Work, Public Administration, and Internship Fair.
The Fairs are open to students and recent graduates. Grambling state University offers 64 Academic programs that are delivered through four colleges. (Arts and Sciences, Business, Education, and Professional Studies.) We also must include our Graduate Studies and Research area. To learn more about our Academic programs, please visit this website: http://www.gram.edu/academics. Here are a few highlights about our University and students.
Grambling state University is the country's top producers of African American graduates.
Grambling State University is the top producer of Computer Information Science grades in Louisiana.
Grambling State University houses graduate level Sports Administration programs.
Grambling State University has one of the largest Criminal Justice Departments in the region.
Grambling State University has been a recipient of the President's Higher Education Community Service Honor Roll Award for several consecutive years.
To register for career fairs, go to https://gram.joinhandshake.com/login, click on "Participant Registration", next to Fair that you wish to attend. You are also asked to send an email, denoting that you will attend as well. Please send email to clevelanda@gram.edu.
Registration fee to participate in all fairs is as follows:
October 24, 2018 – Wednesday – Social Work
$300.00
October 16, 2018

–

Tuesday – Lonnie Smith Fall
$300.00
October 17, 2018

–

Wednesday – Fall Internship Fair
$100.00
October 17, 2018

–

Wednesday – Public Administration
$300.00
February 19, 2019

–

Tuesday – Spring Fair
$300.00
February 20, 2019

–

Wednesday – Internship Fair
$100.00

*Any two fairs are available for 375.00
Each registration includes one table with two chairs, continental breakfast, and lunch for two representatives. Additional reps will be charged $25.00 each. Following your registration, you will receive a confirmation and details regarding the career fair.
Feel free to contact me by emailing fobbsshe@gram.edu by telephone, 318-274-3350. Or you may call or email Ms. Ashley Cleveland, clevelanda@gram.edu or call 318-274-3349.
The Office of Career Services look forward to partnering with you to fulfill your recruiting needs!
Respectfully,
Shelia Fobbs, Ed.D.
Director, Office of Career Services
MOTTO:
YOU NEVER GET A SECOND CHANCE TO MAKE A FIRST IMPRESSION!!