Jun
30
Tue
2020 High Ability Program (Cancelled)
2020 High Ability Program
The 2020 Summer High Ability Program at Grambling State University has been cancelled due to precautionary measures of the COVID-19 pandemic.
ABOUT THE PROGRAM
The High Ability (HA) Program at Grambling State University is a partnership between the Office of Academic Affairs and the Center for Mathematical Achievement in Science and Technology (CMAST).  High Ability offers an accelerated program for high school juniors who have exemplified outstanding academic achievement.
High Ability gives students a commanding lead toward independence, responsibility, and scholarship opportunities.  Participants will earn a total of six credit hours during the summer.  Courses taken by HA students include, but are not limited, to English, mathematics, and science.  Throughout the program, participants are also able to connect with college students and professors to discuss their interests and possible college majors.
High Ability students participate in a science-based field trip to Magic Springs and Crystal Falls Amusement and Water Park in Hot Springs, Arkansas. The High Ability Program at Grambling State University strives to provide a superb educational experience and to promote individual growth and development.
PROGRAM DATES
The Summer High Ability Program is a five-week session.  It will begin on Sunday, June 28, 2020.  Registration will be held on Monday, June 29, 2020, and classes will begin on Tuesday, June 30, 2020.  The High Ability program ends at the close of Summer Session II on Friday, July 31, 2020.
More Information: https://www.gram.edu/offices/academic-support/high-ability/
Application opens February 20, 2020
Deadline to Apply: May 24, 2020
If you have applied or plan to apply to this year's High Ability Program,  please contact Dr. Jacqueline Harris at harrisja@gram.edu or Dr. Danny Hubbard at hubbardd@gram.edu. Please leave your name and date of application.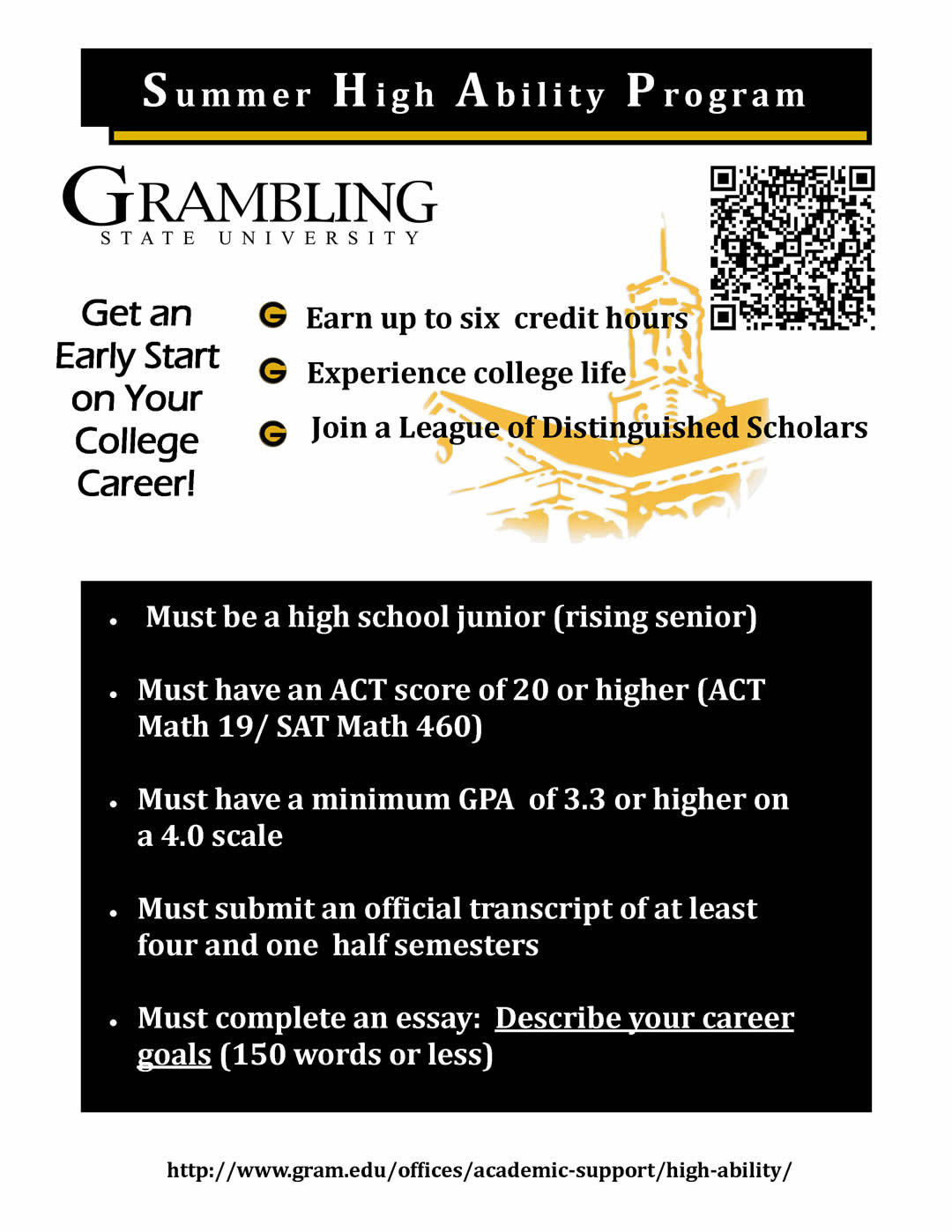 Jul
5
Sun
High School Band Camp

@ Performing Arts Center (Band Hall)
Grambling State University
High School Band Camp
July 5-11, 2020
Click below for Brochure/Application:
https://www.gram.edu/academics/majors/arts-and-sciences/music/band/docs/2020%20HIGH%20SCHOOL%20band%20camp%20brochure.pdf