Mar
21
Sat
High School/Preview Day – Spring 2020 (EVENT CANCELLED)
EVENT CANCELLED
Spring High School/Transfer Day will be held on Saturday, March 21st, 2020. (Itinerary/Hotel Information coming soon!)
*Registration: $25 Paid Pre-Registration Includes Game Ticket, Meal Ticket and T-Shirt
$30  after March 15th, On-Site Registration is Available
Are you ready for an exciting experience at the university Where Everybody Is Somebody? We've planned a day full of activities, fun and information about Grambling State
University!!
Saturday, March 21st, 2020
Click here for Spring 2020 High School Day Registration Form
High School Day is held twice a year (Fall and Spring). It is an excellent opportunity for prospective students that have an interest in becoming a part of #GramFam to get an intimate look into the University's exceptional degree programs and engage in student life on campus. Parents, guardians, teachers, alumni, guidance counselors, principals and more are invited to attend! Each student will have the opportunity to interact with faculty and staff from over 40 degree programs! Grambling State University Student Ambassadors will also be available for tours.
Planned activities include a welcome program with President Richard "Rick" Gallot, academic and student organization fair, performances by the World Famed Tiger Marching Band, the Orchesis Dance Company, the GSU Cheerleaders, National Pan Hellenic Council!
GAME TICKET
INCLUDED!
Featuring:
Campus Tours
Lunch & Games
Academic Counseling
Dance Performances
Marching Tiger Band
Student Organizations
Residence Hall Preview
& More
to
register
gram.edu/highschoolday
$25 Includes Game, T-Shirt & Meal
in Advance. $30 after 3/15/20 and Onsite
Become a Tiger on March 21st, 2020!

 
Contact information: highschoolday@gram.edu or 318-274-6183
We look forward to providing you with the ultimate #GramFam experience!
#GramFamRecruit     #GSU23 
WHERE EVERYBODY IS SOMEBODY!
EVENT CANCELLED
Apr
16
Thu
2020 Black College Dance Exchange – EVENT CANCELLED
EVENT CANCELLED
2020 BCDE
BLACK COLLEGE DANCE EXCHANGE
Hosted by Grambling State University's Orchesis Dance Company
Dianne Maroney-Grigsby, Artistic Director
"Striving for Excellence Through Dance:
Learning, Social, and Performance"
SAVE THE DATE
APRIL 16-19, 2020
OPEN TO ALL DANCE TEAMS & STUDIOS:
Opening Parade followed by Master Class
2 Technique Classes & 1 Master Class per day
Creative Dance Showcase Competition: 1st / 2nd / 3rd Place (Judges from Bring It!)
Attend: Collegiate Dance Showcase & Professional Dance Concert
Audition for: Summer Dance Workshops
Directors Dance Class
Sunday Closing Breakfast
OPEN TO ALL COLLEGES & UNIVERSITIES:
Opening Parade followed by Master Class
2 Technique Classes & 1 Master Class per day
Participate in: Collegiate Dance Showcase
Attend: Professional Dance Concert
Audition for: Summer Dance Workshops
Sunday Closing Breakfast
BCDE 2020 FLYER GSU (PDF)
BCDE 2020 Registration Pack & Information (PDF)

Complete Registration Payment at the link below:
https://secure.qgiv.com/for/bcde/event/811664/
EVENT CANCELLED
Jun
30
Tue
2020 High Ability Program (Cancelled)
2020 High Ability Program
The 2020 Summer High Ability Program at Grambling State University has been cancelled due to precautionary measures of the COVID-19 pandemic.
ABOUT THE PROGRAM
The High Ability (HA) Program at Grambling State University is a partnership between the Office of Academic Affairs and the Center for Mathematical Achievement in Science and Technology (CMAST).  High Ability offers an accelerated program for high school juniors who have exemplified outstanding academic achievement.
High Ability gives students a commanding lead toward independence, responsibility, and scholarship opportunities.  Participants will earn a total of six credit hours during the summer.  Courses taken by HA students include, but are not limited, to English, mathematics, and science.  Throughout the program, participants are also able to connect with college students and professors to discuss their interests and possible college majors.
High Ability students participate in a science-based field trip to Magic Springs and Crystal Falls Amusement and Water Park in Hot Springs, Arkansas. The High Ability Program at Grambling State University strives to provide a superb educational experience and to promote individual growth and development.
PROGRAM DATES
The Summer High Ability Program is a five-week session.  It will begin on Sunday, June 28, 2020.  Registration will be held on Monday, June 29, 2020, and classes will begin on Tuesday, June 30, 2020.  The High Ability program ends at the close of Summer Session II on Friday, July 31, 2020.
More Information: https://www.gram.edu/offices/academic-support/high-ability/
Application opens February 20, 2020
Deadline to Apply: May 24, 2020
If you have applied or plan to apply to this year's High Ability Program,  please contact Dr. Jacqueline Harris at harrisja@gram.edu or Dr. Danny Hubbard at hubbardd@gram.edu. Please leave your name and date of application.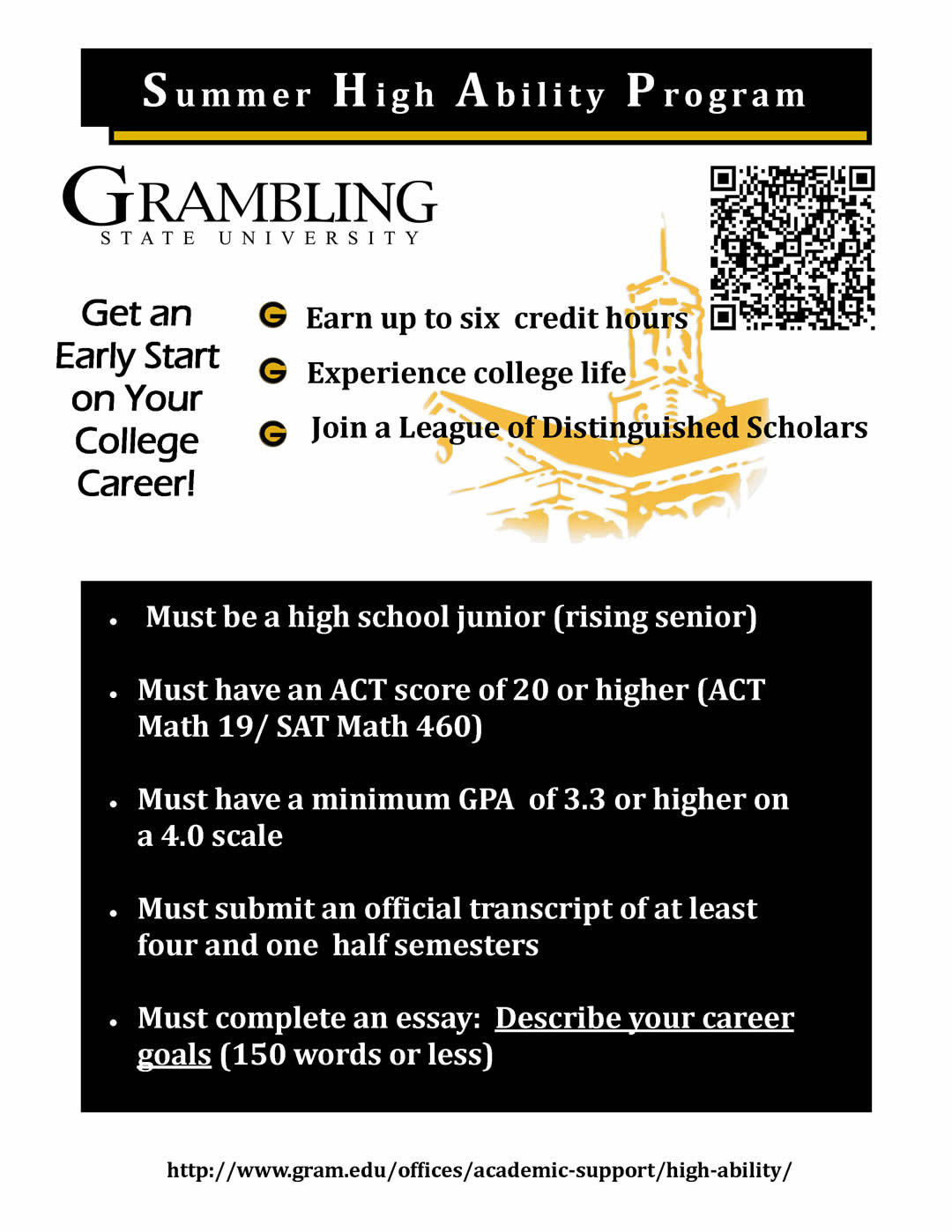 Jul
5
Sun
High School Band Camp

@ Performing Arts Center (Band Hall)
Grambling State University
High School Band Camp
July 5-11, 2020
Click below for Brochure/Application:
https://www.gram.edu/academics/majors/arts-and-sciences/music/band/docs/2020%20HIGH%20SCHOOL%20band%20camp%20brochure.pdf 
Feb
16
Tue
Spring 2021 Virtual Career Fair – Business & Liberal Arts Majors

@ Online
Feb 16 @ 11:00 am – 5:00 pm
VIRTUAL CAREER FAIR
powered by Handshake
February
16 | 11 am – 5 pm
Business & Liberal Arts Majors
18 | 11 am – 5 pm
STEM Majors
Register by joining at gram.joinhandshake.com
Feb
18
Thu
Spring 2021 Virtual Career Fair – STEM Majors

@ Online
Feb 18 @ 11:00 am – 5:00 pm
VIRTUAL CAREER FAIR
powered by Handshake
February
16 | 11 am – 5 pm
Business & Liberal Arts Majors
18 | 11 am – 5 pm
STEM Majors
Register by joining at gram.joinhandshake.com