LA REGENTS GET TASTE OF GSU LIBRARY WOES
Board members visit Grambling State campus, hear why Gallot wants a new library to better serve students
By BRANDON LaGARDE
GSU Media Bureau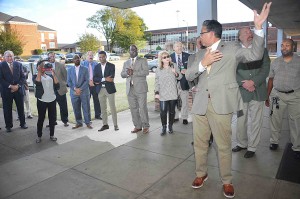 The Louisiana Board of Regents experienced what Grambling State University students feel and see when they visit the A.C. Lewis Library. During a campus visit Tuesday evening, board members saw mold and felt what amounts to a two-temperature heating, ventilation and air conditioning (HVAC) system.
"It's hot or cold," GSU President Rick Gallot told the group. "There's no in between."
Gallot told the visiting board members he wanted them to see the library, built in 1962, so they can better understand why Grambling State students deserve a new library. The president welcomed the board in advance of its Wednesday meeting, normally held in Baton Rouge was held at the Squire Creek Country Club in Choudrant Wednesday (Nov. 2).
The library, a 90,000-square-foot facility, opened in 1962. In recent years, students, faculty and staff have complained about mold growing in the ceiling tiles, in the lobby, study rooms and in the basement, which students are no longer allowed to use because it got so bad. In addition, the HVAC system has had only patchwork repairs.
Cecilia Iwala, the acting library director, said she has seen some band aid work since she arrived, but much more is needed.
"I came here in 2004 and the building is still the same," she said. "We are so grateful that the mold in the basement is being cleaned, but we still have mold growing in the bathroom area and library rooms."
"The library here needs a big lift, a serious face lift," she added. Iwala said GSU needs "a library here to actually enhance student learning. We probably need a brand-new library for the 21st century learners."
That's exactly what Gallot wants: a new library.
"I think it was important for the Board of Regents to be here in the library to experience firsthand what our students experience every day," said Gallot. "They are the management board that oversees all of higher education. All capital outlay request has to go through the Board of Regents. They are the decision makers who needed to see and feel the conditions of our library. I think we accomplished our goal and I do believe we will move our plans forward to eventually have a new library."
Constance Nelson, administrative staff officer to the president, told Gallot in August how bad the mold was in the library when she was looking for wall space to hang the GSU presidential portraits. When the president visited to see for himself, he saw how bad it was – and it was a chilly 40 degrees.
On Tuesday, Gallot apologized to the board members as some took off their jackets and others wiped their brows because the reception in the career services room was going from warm to hot. He said he thought it was going to be cold, but that's how the temperature changes in the library. It was quite a contrast to the library at the University of Louisiana Monroe, where the board visited for a program Monday (Oct. 31). "Now you're experiencing what our student are experiencing," he said.
"This 90,000-square foot monstrosity looks nothing like you saw at ULM yesterday or what a modern library faculty looks like for our students," Gallot said. "I think they deserve it and as their president I've got to find a way to make this happen and I can't make this happen without the Board of Regents."
Board of Regents Chair Richard A. Lipsey said he and the board members felt and saw why Gallot wants a new library, and though they are sympathetic, they have limitations. "It's darn important there's no question about it," he said, "but we're allowed so many dollars from the state of Louisiana. In the state of Louisiana, we have … $2 billion dollars in deferred maintenance…… We have to prioritize."
Lipsey said the board wants to help Gallot and GSU, but there are some clear budget priorities.
"The number one priority is roofs. We can't have a classroom with water coming down and that's our number one priority," he said. "Number two is the ADA requirements. We have schools and classrooms that you cannot get a handicap person into. Lastly would be the HVAC, which is evidently just standing here.
"We're in the day that the air condition does break and its freezing in here tomorrow."
Board of Regents visit GSU Campus Photo Gallery/Slideshow –
Photos: GLENN LEWIS/GSU Media Bureau
For more info on board members please see: http://www.regents.la.gov/page/board-members​
###
Media Contact:
Office of Communications
318-274-2866
mediarelations@gram.edu