University has increases in freshmen, continuing student enrollments,
hitting highest enrollment since 2013
 By WILL SUTTON/GSU Media Bureau
Grambling State University has recorded an important enrollment increase for fall 2017.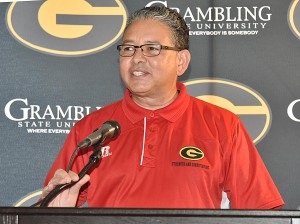 The fall undergraduate and graduate enrollment is 5,188, a seven percent increase from fall 2016 when there was a seven percent enrollment increase. There are 926 new freshmen, a 6.68 percent year-over-year increase. A key enrollment figure is the number of continuing students, the lifeblood of a university beyond first year student arrivals. That number increased by 9.5 percent, a positive sign for continuing enrollment growth for the institution.
"I am ecstatic and thrilled with these numbers," said GSU President Rick Gallot. "Our admissions, recruitment and enrollment teams worked really hard this past year, and the past few weeks, to help interested students clear hurdles to get them enrolled so they can start their matriculation for a successful college career at Grambling State University.
"These numbers prove that GSU is a viable college option, and we have to continue to build on the successes we've had for decades."
The last time the university had an enrollment of more than 5,000 was 2013 when the total student population was 5,071. The last time GSU had an enrollment higher than 6,000 was 1996 when there were 6,701 students enrolled. The highest enrollment in institution history was 7,883 in 1993.
Patricia Hutcherson, executive director of enrollment management, said the news is good and the future is bright for Grambling State University. "We aim to get every interested student and their parent or guardian the information they need to consider our school and we work to give them good reasons to choose to become a tiger," she said. "I'm happy to say that the hard work and long hours have paid off. Now we turn our attention to retention and recruiting for the spring and fall 2018 semesters."
Gallot attributed the enrollment progress to the admissions and recruitment office; the strengthening of the academic programming; a strong athletics program, including the 2016 HBCU national championship football team and a steady effort to build good will among GSU stakeholders.
Gallot, who said early in his tenure that he would like to see an enrollment of 6,000, that big increases are good but incremental increases like this fall's increase are much better. "We can get where we want to be as we continue to work as a team," he said. "We have a dynamic group of recruiters determined to fulfill this goal, and we have to support them with each faculty and staff member also recruiting."
###