GSU FACULTY 'BRINGS IT HOME' OVER BREAKFAST
Grambling State faculty and staff come together to support school financially,
aiming for 100 percent participation
By REAGAN HIGGINS/GSU Media Bureau
Grambling State University President Rick Gallot challenged faculty to go all in and give 100 percent at the third annual president breakfast.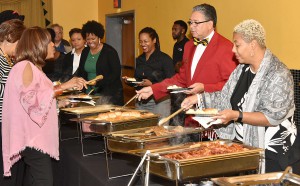 The breakfast, held in the Black and Gold Room, was an opportunity for faculty and staff to show their financial commitment to the university. The campaign is a crucial component for the Bring It Home campaign to reach a $1 million fundraising goal by GSU's homecoming in late October.
"The Bring It Home ALL IN campaign allows all faculty and staff to annually coordinate efforts in giving back to GSU," said Susan Billups Wiley, 51, the interim director of student success and retention at GSU. "I am excited each year to participate and encourage everyone to give."
During the event, Gallot stressed the importance of faculty and staff participation for the ALL IN campaign, saying it is important that those who work at GSU show that they are committed to making the university better. Gallot said his department has 100 percent commitment, and he challenged the faculty and staff in each department to have the same commitment.
"We understand that finances are one of the things to keep the institution going and the Bring It Home campaign is a total initiative to meet several goals of the university, and the employee component will help us to get to that goal," said Marc Newman, vice president for institutional advancement at the university.
Like other Bring It Home donations, Grambling State University faculty and staff donations can be given through five areas, including scholarship support, endowment growth, faculty support, athletic facilities improvements and a greatest needs/unrestricted category. GSU employees can donate at http://www.gram.edu/giving/events/all-in.php
Some in the campus community enjoyed the opportunity to get a free breakfast first thing in the morning on Sept. 7, including Karla Atwater, a security administrator in the university's information technology center.
"I think the breakfast was a great way to kick off the campaign and get everyone on the same page," said Atwater, a 1987 GSU graduate. "We should continue to invest in our university. It just makes it easier to ask for other sources of funding when we can show that we are investing and care about the future of our students and university. It's our responsibility to take care of home first and give back to a great university that prepared us for the future."
"Every person that works here, we are a part of the legacy of Grambling, and I think that alone should make or encourage every faculty or staff to give," added Rita Hood, the school's nursing program admissions coordinator. "We can't expect other people to give if the family's not giving, so I now feel the family needs to support his efforts and making sure we give 100 percent. I believe we can do it."
Gallot is confident the faculty and staff will come through. "Each year we have seen increases in our faculty and staff giving," he said. "So, this year, we are really stressing 100 percent involvement in all our faculty and staff, and we feel really good that we will be able to reach that goal."
Wiley encouraged colleagues and friends to participate. "No gift is too small.  We would love to have 100% participation from each department," said Wiley, a Grambling, Louisiana, native who graduated from GSU in 1988 with a marketing degree. "As an alumna of GSU, I am very honored to give back to my alma mater."
###