Remembering GSU Supporter Eugene Smith, Long-time Mayor of Arcadia, Louisiana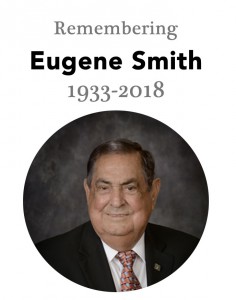 By GSU Media Burea
After battling a lung-illness, on April 23, 2018 long-time Arcadia Mayor Eugene Smith passed away leaving an extensive legacy of public service and achievement in North Louisiana.
"Mayor Smith was a public servant the entire North Louisiana community could count on," remarked Grambling State President Rick Gallot. "He was a great collaborator who inspired us all to find better ways to work together. Smith's legacy and his contributions to Grambling State and its surrounding communities were profound."
Smith's work included serving as Mayor of the town of Arcadia for sixteen years; serving on the Louisiana Municipal Association and Louisiana Entrepreneur and Small Business Commission; and hiring the Bienville Parish town's first black attorney.
"Mayor Smith was an exceptional leader who proudly served all of the people of Arcadia and the neighboring communities with compassion and a true concern for improving their lives," said Governor, John Bel Edwards in a statement.
Some of the lesser-known contributions of Smith's legacy are his contributions to Grambling State and its surrounding communities. Those contributions include supporting the construction and opening of the Eddie G. Robinson Memorial Stadium, the Grambling State University Legends, and collaborating with leaders from Grambling State and surrounding communities on a number of initiatives.
Grambling State University extends condolences to the family, friends, and communities of Mayor Eugene Smith.