Celebrating 26 Years of Service: Dr. Larry J. Pannell, Director of Bands and Head of GSU's Music Department

By GSU Media Bureau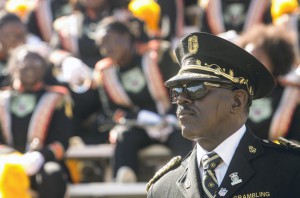 Grambling State University is proud to celebrate the contributions of Dr. Larry J. Pannell, Director of Bands and Head of the University's Music Department. For 26 years Dr. Pannell, most known for his leadership of the Grambling State University Tiger Marching Band, has contributed to a long list of accomplishments in Louisiana and across the nation.
"Our band is one of the many iconic student groups that make our school and brand great," said President Rick Gallot. "That greatness is only possible with committed leadership. Dr. Pannell's legacy is evidence of his enormous commitment."
Affectionately known as "Doc," Dr. Pannell has directly trained more than 5,000 student members of the World Famed Marching Tiger Band. His contributions have helped connect the students and University with some of America's largest brands including Apple, EA Sports, the National Basketball League (NBA), and the National Football League (NFL). In addition, under the guidance of Dr. Pannell, the Tiger Marching Band has participated in more than 300 national performances with:
Apple, Inc.
Bayou Classic
BET's Season of the Tiger
The Cartoon Network
Denver Nuggets NBA
Denzel Washington's "The Great Debaters"
"Drumline" – Movie with Twentieth Century Fox
"Drum Line" Performed for BET
EA Sports Battle of Bands
ESPN
ESPN's Docu-Series, "The Battle"
Fox Sports Network
Good Morning America
Kansas City Chiefs NFL
MTV
Inclusion in the National Museum of African-American History and Culture
NBA All Star Games (1994, 2010)
NBA Dallas Mavericks
Inclusion in NCAA Hall of Champions
NFL Dallas Cowboys
NFL Houston Texans
NFL Jacksonville Jaguars
NFL New Orleans Saints
NFL Seattle Seahawks
President Bill Clinton
Presidential Inaugurations – 44th Barack Obama (2009, 2013), 43rd Pres. George Bush (2005)
Proctor & Gamble
Seattle Seahawks NFL
Sports Illustrated
"Star Wars" (Film)
Super Bowl XXXII
Tournament of Roses Parade
Wheel of Fortune
Dr. Pannell, known for his energy, wit, and passion for musical excellence, summed up his legacy by saying, "May the work I've done speak for me."
"When it comes to band directors, we were blessed to work with Doc," said Ja'Qualan Keal, former drum major for the Tiger Marching Band from 2016 to 2017. "He taught us all the value of hard work and to do everything with excellence."
Thank you, Dr. Larry J. Pannell, for your many contributions and years of hard work.