Meet the Captains – #BringitHome2018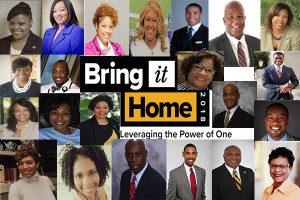 By Kyndall Colon
More than 97 percent of Grambling State University students receive some form of federal and state financial aid. With big debates around financial aid programs, TOPS, and overall funding in higher education, bottom-line support for students is critical in helping them reach their educational goals.
At Grambling State, our "Bring it Home" annual fundraising campaign helps meet students at their point of need – from scholarships to funding solutions for deferred maintenance and employee development. The campaign's $1 million goal is one of many University efforts to help close the gap between graduation for students.
"If the state can't supplement it, mother and father, church or scholarship organization who does it? Somebody has to step up to the plate to make it happen and Grambling State is doing that." According to Marc Newman, Vice President for Advancement, Research and Economic Development.
As the second year of the campaign heats up, it does so with a team of leaders across the country who are helping "Captain" this year's efforts.
"We have a group of alums that have come through Grambling and have done great things out in the world. They are actively utilizing their networks to help us raise money everywhere from Los Angeles and New Orleans to Houston and Dallas; and even all the way to Washington, DC," Says Newman. "The campaign gives our alums and our base the opportunity to hear our message and invest in the success they are seeing take place."
Grambling State University would like to thank this year's Bring it Home Captains – who are leading the charge across the nation.
This year's 2018 Bring it Home Captain Campaign list includes:
Adarian Williams
Alicia Jackson
Alvin Washington
Angelee Moody Rhyne,
Berranthia Brown
Brandon Logan
Calvin Williams
Cathy Conwright
Cecil Rochelle
Cherie Kirkland,
David Aubrey
Don Nelson
Dustin Barnes
Errol Conner
Harmona Epps
Hope Crawford
Ingruil Foster
LaCrecia Jones
Marva Griffin
Murphy Cheatham
Ralph Wilson
Russel LeDay
Shelia Carr
Suzanne Mayo
Tarlesha Smith
Terri Allen
If you would like to host a Bring it Home fundraising event or to contribute, you can contact advancementservices@gram.edu or contact any of our captains.
Thank you to all of our captains and supporters for helping drive another year of success as we help #BringitHome2018.