Grambling State Hosts National Recording Artists & BET/Atlantic Records Access Granted Finale for Homecoming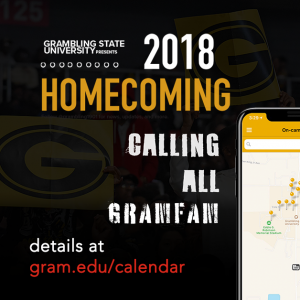 Jazmine Sullivan, Keith Sweat and more to headline November 2 Concert.
FOR IMMEDIATE RELEASE
GRAMBLING, LA – October 17, 2018 – Grambling State University's annual Homecoming Concert will feature a record number of national recording artists. Grammy-nominated artists Jazmine Sullivan, Keith Sweat, and Tank will perform along with actress and singer Teyana Taylor at the University's event on November 2, 2018, at 7 pm.
"This year's homecoming week is projected to be one of our largest in history," said Marc Newman, the University's Vice President for Advancement, Research, and Economic Development. "Between our iconic football program, world-famed band, and one of our largest enrollments in recent history we're already seeing record interest. This year's artist list is helping to boost ticket sales to what could be a new record."
In addition to headliners, this year Grambling State will host 2018 finale performance for the Atlantic Records First-Ever Access Granted: HBCU Tour With BET. Atlantic Records (label home of top talent including Cardi B, Janelle Monae, and Missy Elliott) will host performances and a signing event featuring four of its top new artists: Bri Steves, Ayanis, RecoHavoc, and K'ron.
Grambling State's homecoming celebration is a joint effort bringing together the University's campus, alumni groups, and the City of Grambling to host more than 7,000 alumni and students. Marquis events include:
Homecoming Concert
Friday, November 2, 7 pm
Featuring: Teyana Taylor, Jasmine Sullivan, Tank and Keith Sweat
Hobdy Assembly Center (On-Campus)
Homecoming Comedy Show
Thursday, November 1, 7 pm
Featuring Comedians: Steve Brown, Toya Turn Up, King Keraun, D'Lai, and Jennifer Thomas
Favrot Student Union (On-Campus)
Homecoming Football Game: GSU vs. Mississippi Valley State University
Saturday, November 3, 2 pm
Eddie G. Robinson Memorial Stadium (On-Campus)
For non-students, event admission ranges from $15 to $40. For a full list of events and pricing information, attendees can visit gram.edu/calendar or call Grambling State's Ticket Office at (318) 274-2629.
For concert media credentials, interviews and more information about Grambling State University's Events, please contact mediarelations@gram.edu or call 318-274-2866.
###
About Grambling State University
Grambling State University, located in Grambling Louisiana, is a historically black university founded in 1901. The University has been accredited by 13 accrediting associations and holds accreditations in all programs required by the Louisiana Board of Regents. The 590-acre campus offers 41 undergraduate and graduate degree programs. Grambling State University is a member of the University of Louisiana System. For more information visit gram.edu.