Grambling State Approved to Offer Louisiana's First Bachelor's in Cybersecurity
HBCU & Computer Science Leader Receives ULS Board of Supervisors Support for New Fall 2019 Major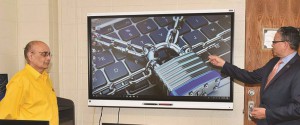 GRAMBLING, La – October 25, 2018 – Grambling State University, Louisiana's top producer of African-American Computer Science graduates, has received system approval to offer the state's first Bachelor of Science degree in Cybersecurity.
At a Thursday, October 25 meeting, the University of Louisiana System Board of Supervisors offered their approval and support for the University's program that would start enrolling students in the Fall of 2019.
"With the vision of your team and the support of this Board, we are confident Grambling is prepared to educate cybersecurity professionals the market is demanding," said Board Chair Al Perkins. "These graduates will be equipped with highly sought-after skills to protect us as technology becomes more prevalent in our daily lives."
The new program's development has been spearheaded by Grambling State faculty member, researcher and member of the Louisiana Cybersecurity Commission, Dr. Yenumula B. Reddy.
"We are excited about the work of Dr. Reddy and his team," said Grambling State President, Rick Gallot. "Their continuous innovation in research and the classroom are paving the way for this program. We are excited for the impact their leadership and our system-level support will have on our state and economy."
Next, the proposal will seek approval from the Louisiana Board of Regents in order to launch its first cohort in Fall 2019.
For interviews and more information, please contact mediarelations@gram.edu or call (318) 243-5012.