Grambling State Fiscal Health Score Jumps 100 Percent
University moves from 2016 fiscal watch list to record improvement
GRAMBLING, LA – Oct. 26, 2018 – An October report issued by the University of Louisiana System reports Grambling State University has doubled its fiscal health score since FY 2016; increasing from a 1.30 to a 2.60 as of the most recent report.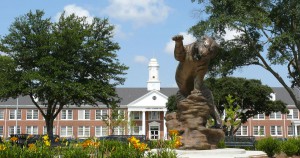 The fiscal health score, developed by the Louisiana Board of Regents, measures overall organizational health, factoring in important components including debt, revenue, and ability to operate.
"It's been a team-wide effort," said President Rick Gallot, when commenting on the success. "As a part of our commitment to innovation, we've engaged new talent and alumni from across the U.S. who not only understand our charge but offer us expert perspectives and thought leadership."
Leading the University's fiscal health initiatives team is Martin Lemelle, Jr. the University's Chief Operating Officer and Interim Vice-President of Finance. The initiative also includes team members who offer experience from higher education, Silicon Valley, and public accountancy.
"We're an example of what's possible when we partner," said Lemelle. "The key to our successes has been a university-wide combination of collaboration and commitment. We've seen innovative ideas from every area, from our controller's office to our academic units."
The outputs of these collaborative teams are having a direct impact on the institution's bottom-line. Some of those outputs include:
$1.2 million in annual savings through participating in the Department of Education's Historically Black College and University Capital Financing Program;
Overall expense reduction of more than $6 million;
A 320 percent annual increase in grants from federal and state government initiatives; and
Realizing new revenue opportunities that include an increase in third-party commissions and its "Look for the Label" program which focuses on increasing licensing royalties.
"Grambling State University is experiencing a renaissance. Its vastly improved fiscal health is yet another indication of the effective leadership and hard work occurring at all levels of the institution," University of Louisiana System President Jim Henderson said. "From its enrollment numbers to its operations, it's exciting to see the rapid and significant advancement of this historic institution."
For interviews or more Grambling State University information, please contact mediarelations@gram.edu or (318) 274-2866.