Save the Date: Eddie G. Robinson 100th Birthday Celebration, February 13-18, 2019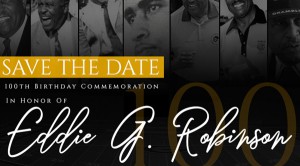 From Grambling, Louisiana to Atlanta, Georgia, join #GramFam across the nation in celebrating the life and legacy of Eddie G. Robinson this Black History Month. Join the Eddie Robinson 100th Birthday Commemoration on Facebook for the latest event updates and celebration news, and save the date for this year's big events:
Grambling, LA Events
Wednesday, Feb. 13 | 10 am
Wreath Placing Ceremony
Grambling Memorial Garden
Wednesday, Feb. 13 | 11 am
Birthday Commemoration Convocation
Hobdy Assembly Center (Location Updated)
Wednesday, Feb. 13 | 6-8 pm
Birthday Celebration Reception
Eddie G. Robinson Museum
The public is invited to the Eddie G Robinson Museum on the evening of February 13, 2019 for a birthday celebration. Suggested donation is $100 with proceeds benefiting the museum.
Thursday, Feb. 14 | 10am to 5 pm
Community Day
Eddie G. Robinson Museum
Spread the love with us on February 14, 2019 at Community Day at the Eddie Robinson Museum!
Atlanta, GA Events
Monday, Feb. 18 | 5 – 7:30pm
Eddie G. Robinson Birthday & Black History Panel
Chick-Fil-A College Football Hall of Fame
250 Marietta Street NW
Atlanta, GA
Members of the Grambling University Alumni Association are invited to attend the Eddie Robinson speaker panel at the Chick-Fil-A College Football Hall of Fame on Monday, Feb. 18 sponsored by the Atlanta Grambling Alumni Association.
Event Information | Get Tickets