Ohio State's Urban Meyer to Keynote Inaugural Grambling State Event
Former Coach to Keynote "Legacy Keepers: Preserving the Eddie Robinson Playbook" March 21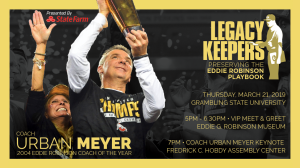 GRAMBLING, LA –March 7, 2019 –The Grambling State University Department of Athletics, in conjunction with the Eddie G. Robinson Museum, announced a very special event in the continuing celebration of what would have been legendary Grambling State University head football coach Eddie Robinson's 100th birthday this year.

The event is part of a new program called, "Legacy Keepers: Preserving the Eddie Robinson Playbook," and former head football coach of the Ohio State University, Urban Meyer, will be the keynote speaker at the inaugural event. The event will take place on Thursday, March 21 at the Fredrick C. Hobdy Assembly Center on the campus of Grambling State University.

Doors will open at 6 p.m. and the program will begin at 7 p.m. Admission for the event is free and open to the public.

"We are very excited to have Urban Meyer on our campus and have him as a guest speaker," Grambling State head coach Broderick Fobbs said. "Coach Meyer is a well-respected coach across the nation and has won numerous championships. It is an honor to bring him on the campus, not just to see Grambling State, but to see the history and legacy of what Eddie G. Robinson has built."

Prior to the event, there will be a VIP Reception beginning at 5:00 PM at the Eddie G. Robinson Museum. A very limited number of tickets are available for this event (https://tinyurl.com/eddierobinson100).

The VIP Reception Packages Include:
> Meet and Greet with Coach Urban Meyer
> Hors d'oeuvres catered by Copelands of New Orleans
> Special VIP Seating at the Legacy Keepers Program

"The Robinson Family is humbled by the support and participation of the Grambling community and surrounding areas during our initial 100th Birthday Commemoration events. We are thrilled to have Coach Urban Meyer join us in continuing the celebration of our grandfather Eddie Robinson," expressed Robinson's granddaughter Cherie Kirkland.

Follow Grambling State Athletics
Follow the latest Grambling State University Athletics news at gsutigers.com.
###
About Grambling State University
Grambling State University, located in Grambling Louisiana, is a historically black university founded in 1901. The University has been accredited by 13 accrediting associations and holds accreditations in all programs required by the Louisiana Board of Regents. The 590-acre campus offers 41 undergraduate and graduate degree programs. Grambling State University is a member of the University of Louisiana System. For more information, visit www.gram.edu.