Women's History Month Schedule for Grambling State University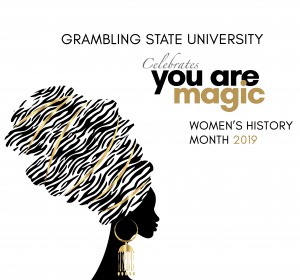 Campus and community host leadership training, convocation, and more
Grambling State University's month-long Women's History celebration "We Are Magic" will include a lineup of VIP guests that include Louisiana entrepreneurs, nationally-known activists, and campus-wide cultural events.
The campus and north Louisiana community are invited to visit gram.edu/calendar or download the University's new mobile app to stay up to date with Women's History Events and News.
Women's History Month Events
Thursday, March 14, 2019
Criminal Justice Department Annual Women's History Celebration
11:00 a.m.
Betty E. Smith School of Nursing Auditorium
Grambling, LA
Monday, March 18, 2018
Professional Development for Women in Academic Affairs
Featuring Dr. Rhonda Pruitt of True Care Dental
11 a.m. to 1 p.m.
Black and Gold Room, Favrot Student Union
Grambling, LA
Thursday, March 21, 2019
Women's History Convocation
11:00 a.m. – 12:00 p.m.
Hobdy Assembly Center
Grambling, LA
For live event updates or to share your photos, follow @Grambling1901 on Facebook, Twitter, and Instagram.
For media access or more information, call (318) 243-5012 or email mediarelations@gram.edu.
###
About Grambling State University
Grambling State University, located in Grambling Louisiana, is a historically black university founded in 1901. The University has been accredited by 13 accrediting associations and holds accreditations in all programs required by the Louisiana Board of Regents. The 590-acre campus offers 41 undergraduate and graduate degree programs. Grambling State University is a member of the University of Louisiana System. For more information visit gram.edu