Grambling State Hosts National Recording Artists & MTV's Wild 'N Out as TigerFest Headliners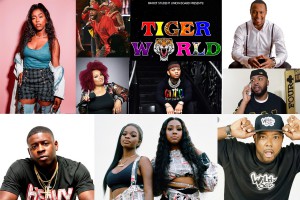 Kash Doll, City Girls, and more to headline Spring Concert and Comedy Events
GRAMBLING, LA – March 18, 2019 – Grambling State University's Annual TigerFest Concerts and Comedy Show will feature Grammy-nominated artists including Kash Doll, the City Girls, Blac Youngsta, and Yella Beezy during the week-long celebration April 7-13.
About the Events
Themed "TigerWorld," Grambling State's annual Spring TigerFest celebration brings together students, alumni groups, and community members for a series of entertainment, social and celebratory events:
TigerFest Gospel Explosion Concert
Sunday, April 7, 5pm
Fredrick C. Hobdy Assembly Center
Featuring special guest Micah Stampley
TigerFest Comedy Show
Wednesday, April 10, 7 pm
Fredrick C. Hobdy Assembly Center
Featuring Comedians: Steve Brown, Comedian Rip Michael's (Wild N Out), Comedian Tyler Chronicles (Wild N Out), Just Nesh (All def digital) =, and Mr. Bankshot.
TigerFest Concert
Thursday, April 11, 7 pm
Fredrick C. Hobdy Assembly Center
Featuring: Kash Doll, Blac Youngstar, City Girls, and Yella Beezy
For non-students, event admission ranges from $15 to $40. For a full list of events and pricing information, attendees can visit gram.edu/calendar or call Grambling State's Ticket Office at (318) 274-2629
For interviews and more information about Grambling State University events, please contact mediarelations@gram.edu or call 318-274-2866.
About Grambling State University
Grambling State University, located in Grambling Louisiana, is a historically black university founded in 1901. The University has been accredited by 13 accrediting associations and holds accreditations in all programs required by the Louisiana Board of Regents. The 590-acre campus offers 41 undergraduate and graduate degree programs. Grambling State University is a member of the University of Louisiana System. For more information visit gram.edu.