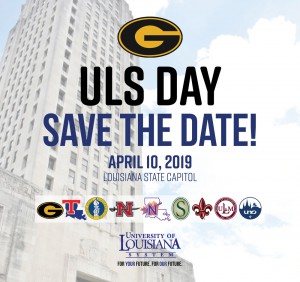 Grambling State students and alumni to join the University of Louisiana System in support of higher education.
Do you believe that higher education is an essential part of Louisiana's future? If so, join Grambling State University and its sister University of Louisiana System schools April 10, 2019, in Baton Rouge, LA.
ULS Day at the Capitol – Wednesday, April 10 – Baton Rouge, LA
Live on the Capitol lawn, the nine University of Louisiana System institutions will come together to show the importance of higher education in Louisiana. Alumni and students are encouraged to join us for performances, spirit groups, and demonstrations from some of our most dynamic academic programs.
ULS Day Lunch: 11 a.m. to 12:30 p.m., Capitol Lawn – featuring lunch sponsored by the Nichols State University Culinary Institute, academic program displays, and performances and exhibits from each university.
ULS Day Group Photo: 1:30 p.m., Steps of the State Capitol
ULS Day Recognition: 2 p.m., House of Representatives and Senate Chambers
This legislative session, our representatives and governor will make critical decisions about higher education and the future of important programs like GSU's new Cybersecurity degree.
As the only historically black college/university (HBCU) in the UL system and the state's leading provider of African-American graduates in key areas like computer science, it's critical to make sure the GSU voice is heard throughout the Capitol.
"We appreciate the legislature's continued support of higher education," said President Rick Gallot of Grambling State University. "Our big vision requires support on every level, which includes ensuring we can recruit and retain world class faculty and staff who drive academic success."
South Louisiana Grambling State alumni and supporters are encouraged to join this year's ULS Day events. Check www.gram.edu/news for more updates on itineraries and events or email mediarelations@gram.edu for more details.