Governor John Bel Edwards Awards Grambling State Student Summer Fellowship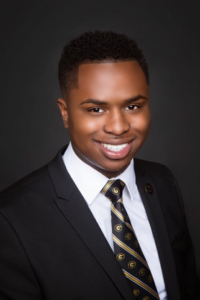 Justin Malone Selected for 2019 Governor's Fellows Program in Louisiana Government
Grambling, LA – May 24, 2019 – Today, Grambling State University announced that student-leader Justin Malone will represent the University in the 2019 Governor's Fellows Program in Louisiana Government which empowers top performing students from across Louisiana to experience life as a legislator.
"We are excited that the Governor has taken notice of what we see daily on our campus," said President Gallot. "Mr. Malone's commitment to service, his fellow students, and our community make him an asset to Grambling State and we are excited to have him represent our student body as he learns how to drive impact at the Capitol."
About Justin Malone
Malone, a native of Quitman, Louisiana, is a rising Senior at Grambling State double majoring in Marketing and Business Management. On campus, Malone has served as Acting SGA Vice President, two-term SGA Chief of Staff, the 2016-17 SGA Sophomore Class President, and Senior Advisor to Alpha Lambda Delta Honor Society. A member of the Gamma Psi Chapter of Kappa Alpha Psi Fraternity, Inc., the Earl Lester Cole Honor College, the National Association of Student Affairs Professionals, and the Thurgood Marshall College Fund Scholars program. After graduation, Justin plans to attend law school and pursue a career in public service.
About the Governor's Fellows Program in Louisiana Government
The Governor's Fellows Program in Louisiana Government is an opportunity for college and university students to experience public policy in action, learn the rich history and current affairs of Louisiana government, and earn three hours of academic credit. Each Fellow will be assigned to a cabinet-level agency in Baton Rouge. Fellows will have the opportunity to gain valuable experience by collaborating with agency leaders on existing projects, observing firsthand the Governor's leadership strategies and learning how state policies are developed. Fellows will also participate in a weekly speaker series and field trips designed to enhance their overall experience and understanding of Louisiana government and current affairs.
For more information, visit http://gov.louisiana.gov/page/governors-fellows-program-in-louisiana-government
For media interviews and more information on Grambling State University, email mediarelations@gram.edu or call (318) 243-5012.
###