Creed & Creed to Sponsor Fundraiser Supporting Grambling State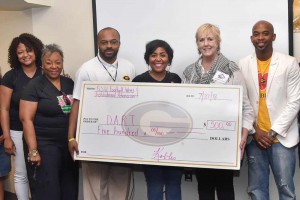 Local Law Firm Signs On to Help 2019 Helmets & Heels Raise Money for Students and Victims of Domestic Violence
GRAMBLING, LA – June 27, 2019 –Today, the Creed & Creed Law Offices announced it has signed on as title sponsor of Helmets & Heels 2019, a women's football clinic and social event that raises funds to combat domestic violence and support student-athletes.
Saturday, July 20, 2019, at 3 p.m. Creed & Creed and other companies will join 100 women for shopping, networking and football education from Grambling State's champion coaches Broderick Fobbs, coach Quentin Burrell, and coach Terrance Graves.
"We are excited for each opportunity to support Grambling State," said Christain Creed. "This event supports a great cause and we are grateful to be able to support the fans, students, and women across north Louisiana."
The event will feature presenters, a DJ, vendor fair, and 100 women for a catered lunch and networking at the University's Conrad Hutchinson Performing Arts Center. Attendees will receive food, free football game tickets for the upcoming season, and a clinic to help answer any of their questions about the game.
Event Details:
2019 Helmets  and Heels – Fundraiser & Football Clinic 
July 20, 2019, 3:00 p.m. – 8:00 p.m.
Conrad Hutchinson Performing Arts Center
Grambling State University
Register at  http://bit.ly/gsuhelmetheels19
Cost: $100 (includes 1 ticket to watch GSU vs. Alcorn State)
Additional Sponsors
In addition to Creed & Creed, the following organizations have signed on to support Helmets & Heels 2019:
Origin Bank
First National Bank
Coca-Cola
Primary Health Services Center
For media interviews or more information on Helmets and Heels, call (318) 243-5012 or email mediarelations@gram.edu.
###
About Grambling State University
Grambling State University, located in Grambling Louisiana, is a historically black university founded in 1901. The University has been accredited by 14 accrediting associations and holds accreditations in all programs required by the Louisiana Board of Regents. The 590-acre campus offers 41 undergraduate and graduate degree programs. Grambling State University is a member of the University of Louisiana System. For more information visit  gram.edu