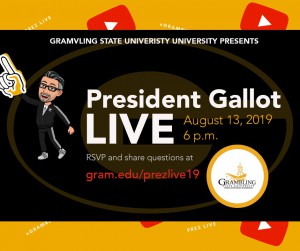 Join students, supporters, and followers for big answers about Grambling State
Grambling, La – July 23, 2019 – Grambling State University President Rick Gallot will host a live webcast August 13, 2019, at 6:00 p.m. to share an annual update and connect with students and supporters.
"Feedback helps create the future," said President Gallot. "I am always excited to hear from our students, alumni, and the many supporters who invest in our growth."
This year's annual event follows a year of history-making moments for Grambling State including a new 24-hour dining program, more than $20 million in funding for facility updates, the upcoming launch of Louisiana's first Bachelor of Science in Cybersecurity, and the World Famed Tiger Marching Band's invitation to perform for Beyoncé and Adidas.
"This has been an incredible year," said Gallot. "I can't wait to share what's ahead for our campus and students."
Event Details
President Gallot Live
August 13, 2019 at 6:00 p.m.
Live broadcast at gram.edu or https://www.youtube.com/user/GramblingStateUniv
Live Broadcast Link: https://www.youtube.com/user/GramblingStateUniv/live
Archive Video Link: https://youtu.be/5xzzQjDaNUk
For media interviews, email mediarelations@gram.edu or call (318) 243-5012.