Grambling State Competes for Honda Battle of the Bands, Voting Open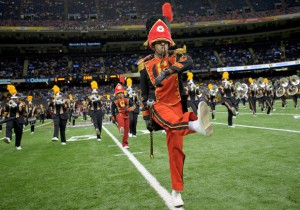 Online Voting Open September 30 to October 12, for GSU World-Famed Tiger Band Fans
GRAMBLING, LA – October 1, 2019 – Today, Grambling State University announced that it's 93-year old World-Famed Tiger Marching Band will compete in the first round of the 2020 Honda Battle of the Band Competition. To make it to round two, "World-Famed" fans are encouraged to vote for Grambling State at http://hondabattleofthebands.com/.
"We know we're the best band in the land and are excited to show the world why they call us the 'World-Famed,'" said Dr. Nikole Roebuck, Director of Bands and Head of the University's Music Department. "It's an honor to compete with our colleagues across the country who help positively raise the profile of HBCUs and provide national exposure for these hard-working students."
Grambling State's band participation follows a marquis year for the 242-member student group well-known for memorable performances, including the first NFL Super Bowl halftime show. This year's achievements have included performances for Beyoncé and adidas, national media attention for appointing the third woman band director in HBCU history, and a series of corporate performances across 2,000 miles of the United States.
About Honda Battle of the Bands
Since 2003, HBOB has provided top marching bands from America's HBCUs an opportunity to deliver dynamic performances on a national stage. For information and updates on the program, visit www.hondabattleofthebands.com. Fans can also check out highlights from the 2018 Invitational Showcase on the official HBOB social media channels:
For media information for the Grambling State University World-Famed Tiger Marching Band or interviews, contact mediarelations@gram.edu or (318) 274-2866.
###