Grambling State Chosen as a Finalist in the 2020 Honda Battle of the Bands
World Famed Band Wins $20,000 Music Education Grant and Advances to Top Eight Competition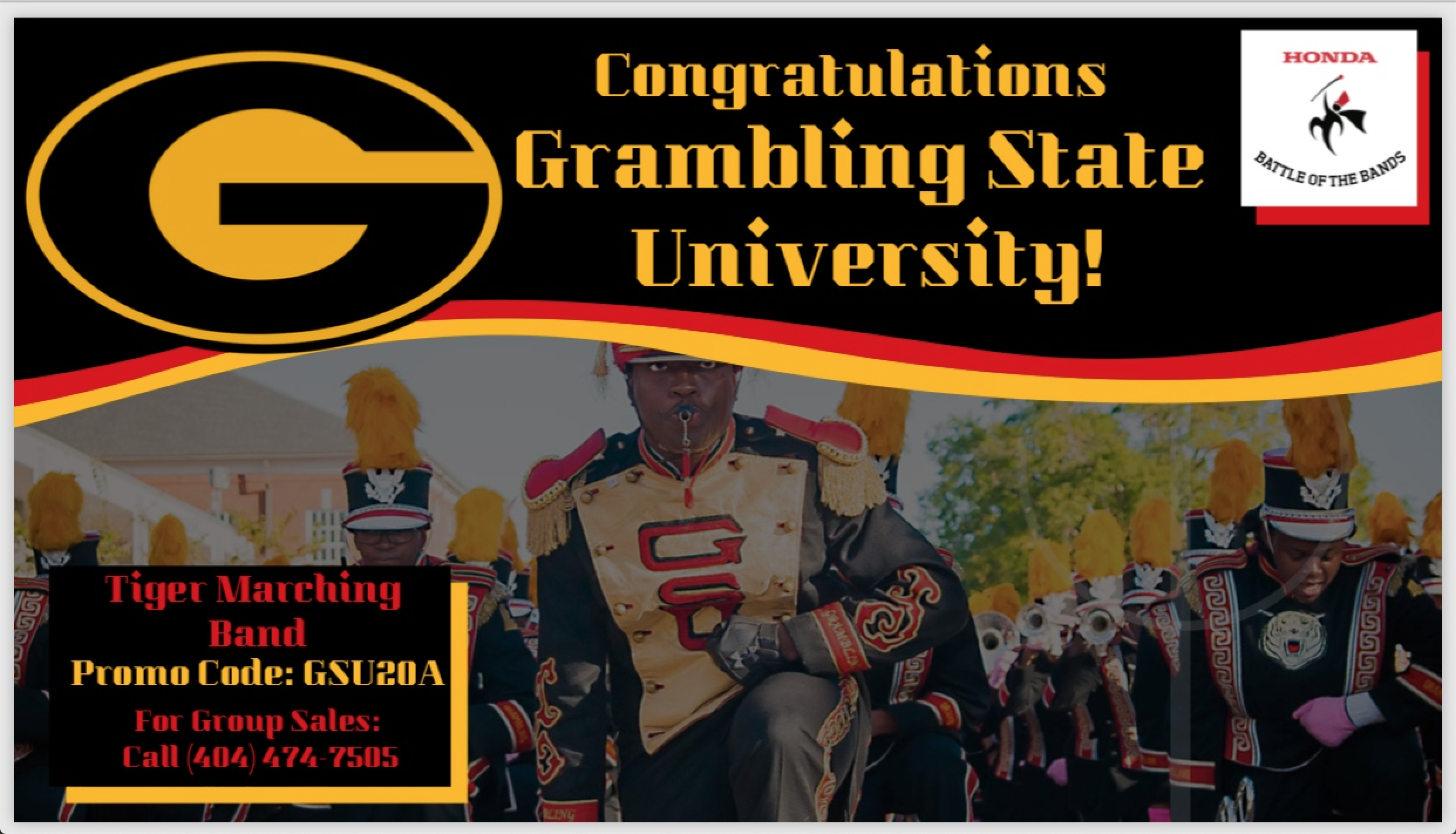 GRAMBLING, La – October 28, 2019 – Grambling State's World Famed Tiger Marching Band has been selected as a top eight finalist in the Honda Battle of the Bands. In addition to bringing home a $20,000 grant for the University's music education program, the Band has landed a spot in the final competitive lineup at the 17th HBOB Invitational Showcase in Atlanta on January 25, 2020.
"This competition highlights the legacy of influence that HBCU Bands have on American culture," said Dr. Nikole Roebuck, Director of Bands and Head of the University's Music Department. "I am honored that the World Famed continues to make history, especially during our celebration of Conrad Hutchinson Jr. Month."

This October, the university celebrates Conrad Hutchinson Jr. Month, honoring legendary Grambling State Director of Bands who led performances at the NFL's first Superbowl halftime, presidential inaugurations, Fortune 500 commercials, major motion pictures and world-wide acclaim. This year's achievements have included performances for Beyoncé and adidas and appointing the third woman band director in HBCU history.
"Marching bands are the cornerstone of HBCU culture, and through Honda Battle of the Bands, we are able to bring together students, alumni, fans and supporters in celebration of their incredible talents," said Steve Morikawa, Vice President of Corporate Relations and Social Responsibility for American Honda. "Honda congratulates all eight bands and we look forward to an inspiring day of entertainment, showmanship, and school spirit."
Tickets to the 2020 HBOB Invitational Showcase are available for purchase now. The final competition will feature performances and showmanship from the following eight bands:
Grambling State University, World Famed Tiger Marching Band (Southwestern Athletic Conference)
Benedict College, The Marching Tiger Band of Distinction (Southern Intercollegiate Athletic Conference)
Florida A&M University, Marching 100 (Mid-Eastern Athletic Conference)
Hampton University, The Marching Force (Big South Conference)
Jackson State University, Sonic Boom of the South Marching Band (Southwestern Athletic Conference)
North Carolina A&T State University, Blue & Gold Marching Machine (Mid-Eastern Athletic Conference)
Prairie View A&M University, Marching Storm (Southwestern Athletic Conference)
Tennessee State University, Aristocrat of Bands (Ohio Valley Athletic Conference)
Supporters are encouraged to join the conversation using #HBOB and follow the World Famed Tiger Marching Band's journey to the Invitational Showcase on official social media channels:
Facebook – @gramfamband & Facebook.com/HondaBattleoftheBands
Twitter – @gsuworldfamed & @The_Honda / Twitter.com/The_Honda
Instagram – @gsu_worldfamedband & @the_honda / Instagram.com/the_honda
For media inquiries and interviews, contact mediarelations@gram.edu.
About Honda and the HBCU Community
Honda is committed to supporting HBCUs by investing in their music education and academic programming while also providing platforms to showcase their exceptional students. Through Honda Battle of the Bands and the Honda Campus All-Star Challenge academic quiz bowl, Honda has provided over $13 million in grants to HBCUs and touched the lives of more than 200,000 students over the past three decades.
About Grambling State University
Grambling State University, located in Grambling, Louisiana, is a historically black university founded in 1901. The University has been accredited by 13 accrediting associations and holds accreditations in all programs required by the Louisiana Board of Regents. The 590-acre campus offers 42 undergraduate and graduate academic programs. Grambling State University is a member of the University of Louisiana System. For more information, visit gram.edu.