Grambling State Wins Bayou Classic BizTech Challenge for the Second Consecutive Year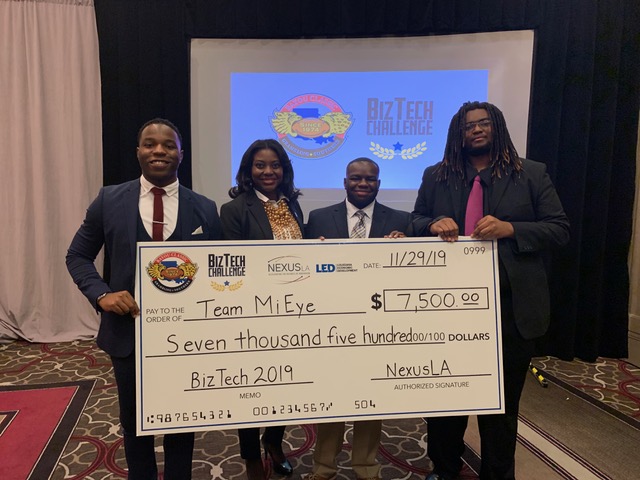 Student Team Develops App Concept for $7,500 Prize in Technology Business Model Competition
GRAMBLING, La – December 3, 2019 – Three Grambling State students took home $7,500 cash prize at the 2019 Bayou Classic BizTech Challenge, a competition presented by Louisiana Economic Development. The competition give students the opportunity to present a technology-based business plan and receive mentorship from industry leaders and win funding for their idea.
"Participating in the challenge for a second year was even more enriching than the first," said Glossom, senior computer science major. "It's amazing to have our business model receive this level of support and to learn the ins and outs of pitching the idea for stakeholders."
With the help of their coach, Dr. Sreekumari, the Grambling State team's pitch won against two teams from Southern University, one team from Southern Law, and one team from Xavier University.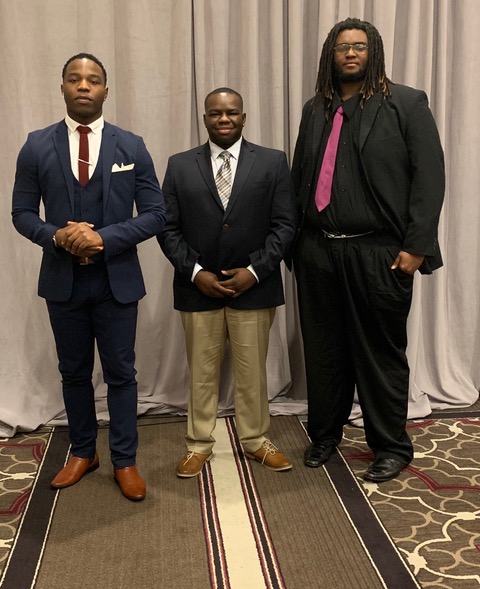 Team members Cameron Jackson (first time participant), Gary White (second consecutive win), and Nakiaus Glosson (second consecutive win) developed a business model for a mobile application that alerts monitors homeowners of structural risks and damages in real time. The app is called MiEye and is designed to take the guesswork out of ensuring home safety.
"I had a blast developing the business model and app concept to save people's homes and generate revenue for insurance companies," said White. "Winning the competition for a second time really validates that I'm on the right track for a promising career thanks to Grambling State and LED."
The top five teams were invited to pitch their business and technology solutions live before a panel of judges at 1 p.m. on Friday, Nov. 29, at the Hyatt Regency Hotel in New Orleans. Grambling State's winning team caught the attention of representatives from sponsors and recruiters from industry leaders such as American Airlines and the CIA.
"We're extremely proud of our students' ingenuity and hard work," said President Rick Gallot. "Their successes in these competitions prove that innovation starts the day our students step foot on campus. Their bright ideas from the classroom aren't just thoughts, but viable business concepts that can change the world."
Additional sponsors of the event included American Airlines, ExxonMobil, Louisiana Mid-Continent Oil and Gas Association, AT&T and Delta Regional Authority.
"I'm excited by the prospect of making our mark in the industry with all the skills and tools we've learned from the competition, said Jackson, junior Computer Science major. "This experience is proof that there's no limit to what we can accomplish."
For interviews and more information about the Bayou Classic BizTech Challenge, please contact mediarelations@gram.edu or call 318-243-5012.
About the BizTech Challenge
The BizTech Challenge, presented by Louisiana Economic Development, is an educational and interactive program that teaches currently enrolled undergraduate or graduate students how to apply what they're learning inside the classroom to solve real-world problems. With the end user in mind, student teams are charged with designing a technology that solves a problem in the marketplace and creating a successful business model around that technology. Team members have the opportunity to interact with industry professionals and business owners, which can potentially lead to internship and employment opportunities.