Monroe's First Missionary Baptist Church provides $10,000 Scholarship Donation
For the Fourth Consecutive Year, Donation Honors Memory of Mansfield Family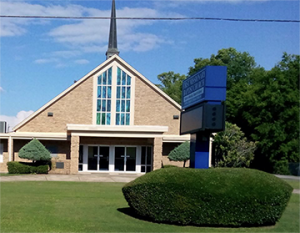 GRAMBLING, La. – October 19, 2020 – First Missionary Baptist Church of Monroe is entering its fourth consecutive year of support for the Grambling University Foundation with a $10,000 donation.
The donations are in memory of Dr. Andrew J. Mansfield and his widow, Mrs. Mae Mansfield, Pastor Tegitra Thomas said. They are earmarked for scholarships.
Dr. Mansfield was pastor of First Missionary Baptist Church for 41 years. He also served as mayor of the city of Grambling.
"First Baptist and particularly the Mansfield family have been strong supporters of Grambling State University for decades," President Rick Gallot said.  "The fourth year of the scholarship contribution is a great example of the continuation of that investment.   We appreciate Reverend Thomas and the entire First Baptist Family."
To learn more about scholarships and giving at Grambling State, visit gram.edu/giving.
About Grambling State University 
Grambling State University, located in Grambling, Louisiana, is a historically black university founded in 1901 that combines the academic strengths of a major university with the benefits of a small college. This combination enables students to grow and learn in a serene and positive environment. The 590-acre campus offers 43 undergraduate and graduate academic programs. A member of the University of Louisiana System, Grambling State University has been accredited by 13 accrediting associations and holds accreditations in all programs required by the Louisiana Board of Regents. With a longstanding tradition of excellence, Grambling State University continues to emphasize the value and importance of each student, exemplified by our motto: Where Everybody Is Somebody. For more information, visit gram.edu.