General Studies program at Grambling State University now available online
Program Offers Flexibility to Explore Four Areas of Concentration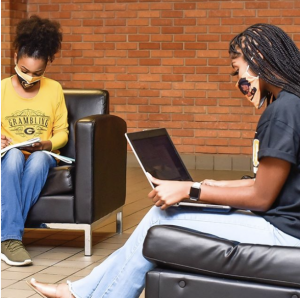 GRAMBLING, LA – November 7, 2020 – Grambling State University's General Studies program has been approved for 100 percent online delivery.
Established at Grambling State in 2018, the unique program reflects diversity in learning and instruction.
"The interdisciplinary approach to the General Studies program prepares students to succeed in a diversified workforce and equip them with the necessary skills to successfully engage in a productive work environment," said Dr. Roshunda Belton, chair of Grambling State's history department, where the program is housed.
The General Studies program gives students the ability to choose between four concentrations:  Humanities and Culture; Gender, Race and Intersectionality; Juvenile Behavioral Studies; and Gerontology. A goal associated with establishing the General Studies program was to give former students who left the university or those contemplating leaving the university an option for earning a degree from a program that could be tailored to support interests. Students gain the opportunity to explore varied interests that extend beyond a particular major. Dr. Belton adds, "Previously taken classes may be used to successfully fulfill degree requirements for completion."
Online delivery helps Grambling State meet the needs of many of its students. Online learning provides flexibility, allowing students to balance their education with life's obligations. The program announcement has been well received by students.
"Being granted the opportunity to complete my degree online means absolutely everything to me. What seems so minuscule for some, is huge to us who value flexibility and convenience due to our everyday lives," said DeNisha Ford. Ford, once a traditional on-campus student, said life-altering events made this degree option an opportunity for her to still achieve her educational goals.
For single parents Arreyal Cooper and Mysty Henry, the online program will help them juggle family, work, and education.
"For me, 100 percent online works because it helps me to balance and plan my assignments ahead," Cooper said.
Henry's 17-year-old daughter is active in many school activities and Henry works full time.
"Attending school online will benefit my daughter as well as myself because I will be able to attend her school activities," Henry said. "I will be able to work so the bills will get paid while accomplishing my goals to obtain a college degree online. Thank you so much for thinking about parents that are trying everything they can to make their dreams come true!"
The flexibility of the program appeals to students like Areonna Gobert.
"Being 100 percent online has helped me a lot because I'm on my own time. I don't have to deal with meeting others face to face, and in some courses, I can get assignments done for the entire semester before the semester even ends," Gobert said.
For more information, please email academicaffairs@gram.edu or call 318-274-2256.
About Grambling State University
Grambling State University, located in Grambling, Louisiana, is a historically black university founded in 1901 that combines the academic strengths of a major university with the benefits of a small college. This combination enables students to grow and learn in a serene and positive environment. The 590-acre campus offers 43 undergraduate and graduate academic programs. A member of the University of Louisiana System, Grambling State University has been accredited by 13 accrediting associations and holds accreditations in all programs required by the Louisiana Board of Regents. With a longstanding tradition of excellence, Grambling State University continues to emphasize the value and importance of each student, exemplified by our motto: Where Everybody Is Somebody.