Commencement speaker touts preparation for life from Grambling experience
Spring 2020 Commencement Speaker Calls Upon Graduates to 'Earn Their Tiger Stripes'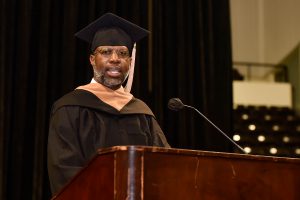 GRAMBLING, LA – November 16, 2020 –A tiger's stripes form a unique pattern. That fact is not lost upon a scientist who works in a data-driven environment.
Randall B. Reed, director of Quality-Sales for the U.S. affiliate of Eli Lilly & Company, urged graduates at the two of six commencement ceremonies at Grambling State to "listen to the science and follow the data."
He received a bachelor of science degree in chemistry in 1988 and has been working in the pharmaceutical industry for 32 years. While the Grambling State alum admits his college experiences in the 1980s may not compare to the challenges this graduating class has overcome in a Covid-19 environment, campus experiences still prepare you for post-campus life with the need to balance work and play, he said.
"Grambling has prepared you to have a successful career in your field of study," he said. "You'll want to thank your professors in the future."
Reed has been a long-time advocate within the pharmaceutical industry for recruiting scientists from Grambling State and other HBCUs.
"The GSU network – GramFam as we call ourselves – will always be here for you," he said. "We have alumni with influence who are willing to help others, to reach back and help Grambling."
Get out there and earn your stripes, he encouraged. "You always have the ability to earn more Tiger stripes."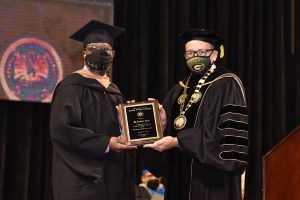 While at Grambling State, Randall was initiated into the Delta Sigma chapter of Alpha Phi Alpha Fraternity, Inc., and he is now a lifetime member of the fraternity. He supports community programs that improve the lives and provide opportunities for African American youth. He has been honored by the Indiana Black Expo for his long-term role volunteering as a Big Brother within the Big Brother/Big Sister Organization.
For more information, please contact mediarelations@gram.edu.
About Grambling State University
Grambling State University, located in Grambling, Louisiana, is a historically black university founded in 1901 that combines the academic strengths of a major university with the benefits of a small college. This combination enables students to grow and learn in a serene and positive environment. The 590-acre campus offers 43 undergraduate and graduate academic programs. A member of the University of Louisiana System, Grambling State University has been accredited by 13 accrediting associations and holds accreditations in all programs required by the Louisiana Board of Regents. With a longstanding tradition of excellence, Grambling State University continues to emphasize the value and importance of each student, exemplified by our motto: Where Everybody Is Somebody.