Continue Your Growth as a Leader, Commencement Speaker Urges Graduates
Grambling State University Alum Returns to Offer Advice and Motivation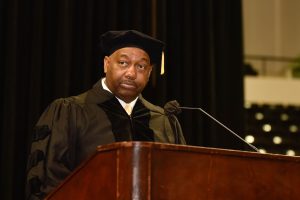 GRAMBLING, LA – November 20, 2020 Leadership is the highest value in an organization, Commencement speaker Clyde R. Dyson Jr. told graduates from Grambling State University's Colleges of Business and Education on Wednesday.
Dyson, a Grambling State graduate with a bachelor's degree in Marketing, has served as the University's Executive Advisory Board Chairman since 2009. He came to Grambling State from Paincourtville, Louisiana, to play football for legendary coach Eddie Robinson.
"You have completed the first stage of readiness for your career," Dyson said. "Continue preparing to where you want to get to next. Don't count on good luck. … We are not playing the lottery game… We are playing the career game."
Becoming an effective leader doesn't happen overnight, he said. A strong leader chooses a plan, then throws his entire weight behind it, he said.
Leaders are able to influence others, are transparent, are risk takers, are people of integrity and they act decisively, he said.
"It's your time to go out and create your own path," Dyson said. "Decide what your legacy will be when you enter the workforce.
"It is your time to power up and lead."
Dyson, currently GM/Unit Sales Manager at Pepsi Beverage Company in Erlanger, Kentucky, has also served Pepsi as the GM/Unit Sales Manager in Alexandria, Louisiana.
Before that, he held general manager positions with Toyota Motor Sales, Inc., in the company's Cincinnati and Portland regions and then became Vice President of Operations for Toyota in Cincinnati.
For more information, please contact mediarelations@gram.edu.
About Grambling State University
Grambling State University, located in Grambling, Louisiana, is a historically black university founded in 1901 that combines the academic strengths of a major university with the benefits of a small college. This combination enables students to grow and learn in a serene and positive environment. The 590-acre campus offers 43 undergraduate and graduate academic programs. A member of the University of Louisiana System, Grambling State University has been accredited by 13 accrediting associations and holds accreditations in all programs required by the Louisiana Board of Regents. With a longstanding tradition of excellence, Grambling State University continues to emphasize the value and importance of each student, exemplified by our motto: Where Everybody Is Somebody.