Never Give Up on Your Dreams, Commencement Speaker Advises
Judge Carlos Moore Walks in Faith that God has a Perfect Plan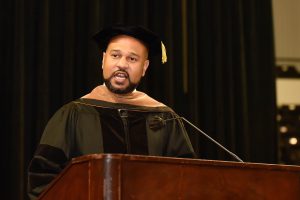 GRAMBLING, LA – November 21, 2020 – "I see your hunger for success," Judge Carlos E. Moore told graduates at Grambling State University commencement ceremonies on Wednesday.
But, he said, "As the future and the soul of this nation, you still have many more mountains to climb."
Life does not always go as planned, and Moore encouraged graduates to never give up on their hopes and dreams.
The judge told graduates his own story of perseverance.
"I refuse to be denied," he said. "Anything I go after, I must accomplish it."
One of those accomplishments was to rise to the presidency of the National Bar Association. It took 20 years and multiple tries, but the Moss Point, Mississippi native will be installed as president in July 2021.
As managing partner of The Cochran Firm in Grenada, Mississippi, Moore believes "if you never quit, you can and you will succeed."
Moore walks in faith that God has a perfect plan. "He has a call and a purpose for each of your lives. But your time clock may not be His time clock."
He encouraged graduates to "find your purpose and walk in your calling."
Faith will take you further than your mind can see, he said.
For more information, please contact mediarelations@gram.edu.
About Grambling State University
Grambling State University, located in Grambling, Louisiana, is a historically black university founded in 1901 that combines the academic strengths of a major university with the benefits of a small college. This combination enables students to grow and learn in a serene and positive environment. The 590-acre campus offers 43 undergraduate and graduate academic programs. A member of the University of Louisiana System, Grambling State University has been accredited by 13 accrediting associations and holds accreditations in all programs required by the Louisiana Board of Regents. With a longstanding tradition of excellence, Grambling State University continues to emphasize the value and importance of each student, exemplified by our motto: Where Everybody Is Somebody.