Grambling State University Graduates Are Well Prepared for Next Steps
Judge Tammy Lee Advises Grads to Continue Learning, Develop Support Network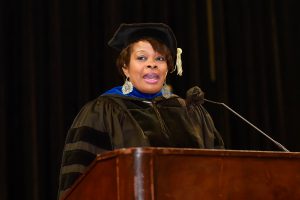 GRAMBLING, LA – November 22, 2020 – "Grambling State University has more than prepared its graduates for prime time," Monroe City Court Judge Tammy D. Lee told graduates at Fall 2020 commencement exercises on Thursday.
It's now time to ascend to the next step, she said. "Let me just assure you that all is well and that all will be well. You have not been brought this far to falter, to bend, or to look in the rearview mirrors of your minds and doubt."
Lee advised graduates to take a lesson from every experience and encounter, whether good or bad. "Learn from your mistakes, and particularly those that bring you to your knees," she said.
The support of family and friends will continue to be important, she said. "Get yourself a crew of 'no matter what' friends who will celebrate you both during your opportunities and your obstacles," she said.
Thirty years later, friends from Grambling remain friends, she said.
"If your friends won't dig a tunnel to Hiroshima for you, you better leave them behind," she said.
"You need that true circle of true blues."
Put your cell phone down and enjoy life, she said. Do not allow it to pass you by. Stay engaged. Stay alert and stay informed.
Judge Lee earned a B.A. in English from Grambling State in 1989. In 1992, she earned a Juris Doctorate from Southern University Law Center. In 1993, she returned to Monroe, and served as the first African American law clerk at the Fourth Judicial District Court for Judge Carl V. Sharp and Judge Benjamin Jones.
In 1996, she worked as an Indigent Defender Board Attorney serving at the Monroe City Court. During this time, Judge Lee also served as an Adjunct Professor in the Department of Criminal Justice at Grambling State. Thereafter, she was selected by Mayor Abe E. Pierce as a City Prosecutor for the City of Monroe and was the first African American woman to do so. In 2001, she became the first female to be sworn in as a judge at the Monroe City Court.
For more information, please contact mediarelations@gram.edu.
About Grambling State University
Grambling State University, located in Grambling, Louisiana, is a historically black university founded in 1901 that combines the academic strengths of a major university with the benefits of a small college. This combination enables students to grow and learn in a serene and positive environment. The 590-acre campus offers 43 undergraduate and graduate academic programs. A member of the University of Louisiana System, Grambling State University has been accredited by 13 accrediting associations and holds accreditations in all programs required by the Louisiana Board of Regents. With a longstanding tradition of excellence, Grambling State University continues to emphasize the value and importance of each student, exemplified by our motto: Where Everybody Is Somebody.