Inspired to think differently
Fall 2020 valedictorian credits Grambling State for broadening horizons, challenging perceptions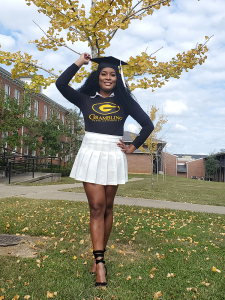 GRAMBLING, La. – November 23, 2020 – When Kimorah John arrived at Grambling State University (GSU), the way she thought about life at an HBCU was changed forever. Granted a full scholarship from the government of the Commonwealth of Dominica to attend GSU, she crossed the stage Friday, November 20th with a 4.00 grade point average as the valedictorian of the Fall 2020 class.
The summa cum laude graduate chose to major in psychology because of what she saw while growing up.
"I grew up in a community where the importance of mental health is often overlooked," she said. "Individuals who are suffering with mental health issues rarely seek the help they need. I want to help change that mindset. I understand that having a healthy mind is important to maintaining overall good health."
Challenged with a rigorous curriculum, John credits her professors for pushing her outside of her comfort zone. She said Head of Psychology Dr. Kevin Washington motivated her to be the best version of herself while Dr. Uju Ifeanyi, associate professor of English, challenged her to be flexible with her way of thinking and Dr. Steve Favors of the Earl Lester Cole Honors College encouraged her to grasp every opportunity that came her way. One of those opportunities included interning with the Boris L. Henson Foundation during the summer of 2020. Founded by actress and author Taraji P. Henson, she served as a team member of the COVID-19 virtual therapy campaign.
"I referred clients, assisted with inbox management, and managed the hotline for the campaign," she said. "This internship brought insight into the struggles that mental health wrought, the ever-widening impact of a health crisis like COVID-19, and further prepared me for my future career."
Having been on the President's List from 2017-2020, John also broadened her horizons by being involved on campus. During her matriculation at GSU, she was a member of Pi Gamma International Honor Society in Social Sciences (Louisiana Eta Chapter ), Association of Social and Behavioral Scientists (ASBS), Social Research Club, Association of Gerontology and Human Development at Historically Black Colleges and Universities, Earl Lester Cole Honors College, Student Ambassadors, President Leadership Initiative, Psychology and Sociology Club, and Favrot Student Union Board. She also served as the 2018-2019 Vice President of the International Student Organization.
Now that she has earned her bachelor's degree, John plans to earn a master's degree in cognitive psychology. She said her ultimate dream is to find cures and improve the treatment of cognitive disorders. Armed with the knowledge she's acquired at Grambling State University, John is confident about her future.
"Whether it was through the relationships I developed, the advice received from mentors, or the events I attended at GSU, I was able to learn more about myself," said John. "I know what my strengths and weaknesses are. I know what I need to work on to become the individual I aspire to be. Grambling State University has changed me for the better."
About Grambling State University
Grambling State University, located in Grambling, Louisiana, is a historically black university founded in 1901 that combines the academic strengths of a major university with the benefits of a small college. This combination enables students to grow and learn in a serene and positive environment. The 590-acre campus offers 43 undergraduate and graduate academic programs. A member of the University of Louisiana System, Grambling State University has been accredited by 13 accrediting associations and holds accreditations in all programs required by the Louisiana Board of Regents. With a longstanding tradition of excellence, Grambling State University continues to emphasize the value and importance of each student, exemplified by our motto: Where Everybody Is Somebody.