Grambling State University, SodexoMagic unveil $5M renovation of McCall dining hall
20,000 sqft dining facility features diverse food offerings, spaces for study, recreation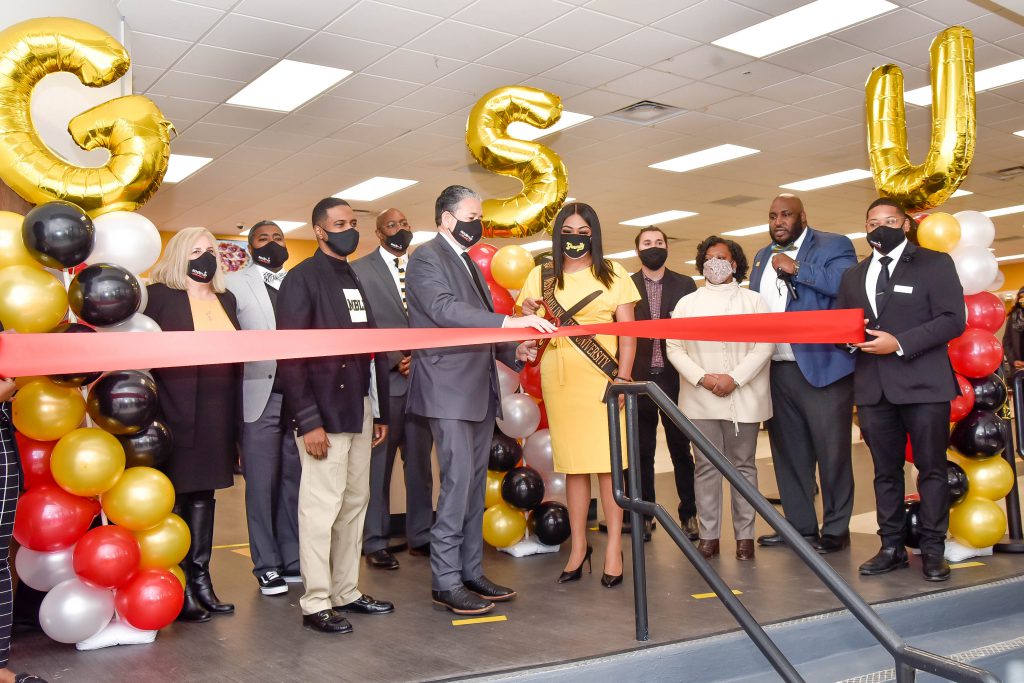 GRAMBLING, La. – January 8, 2021 – Today, Grambling State University officials along with foodservice partner SodexoMAGIC, unveiled a renovated dining hall to an audience of students, faculty, staff, and community. Known as McCall Dining Hall, the renovation of the 20,000 square foot facility was a product of collaboration among stakeholders campus-wide.
Students were an integral part of the process to select a new food service partner. Surveys encouraged students to suggest dining options and accommodations on campus. These insights became an important resource as the University and SodexoMAGIC planned for construction. The $5 million renovation of the facility began in May 2020.
"This is really the manifestation of what students said they wanted to see in a foodservice program," said Grambling State University President Rick Gallot. "It's not just a place where you can get incredibly good food. It's also a place where you can establish a sense of home."
The new dining destination includes enhanced versions of previous stations that include a new pizza oven and salad bar that offers full customization. Several new platforms were also introduced based on student feedback. One of the most in-demand options was a full-service pasta station that features a variety of house-made pasta. A new station called Bistro 1901 showcases the traditional comfort and soul foods students crave while a plant-based station and smoothie/juice bar serve as healthy dining destinations.
Simple Servings, Sodexo's proprietary concept that serves dishes free of the top eight food allergens, was expanded to better support students with food allergies and intolerances. The refreshed Simple Servings station now includes its own dedicated preparation space to reduce the risk of cross-contact, and a new carving station adds variety to the platform.
To foster an interactive, educational meal experience, additions also include a center-stage salad bar and Chef's Table showcase station, which offers students many opportunities to engage directly with the culinary team as they prepare and serve dishes.
Additional features like the game room, stage, and projector create new opportunities for dining events. The SodexoMAGIC team is already planning to host movie nights, guest chef cooking showcases, karaoke competitions, and a March Madness basketball screening in the new dining hall.
About SodexoMAGIC
SodexoMAGIC is a joint venture formed in 2006, between Magic Johnson Enterprises, LLC, which is owned by NBA Hall of Famer, Earvin "Magic" Johnson, and Sodexo, Inc. Mr. Johnson holds a 51% stake in the company and serves as Chairman, qualifying SodexoMAGIC as a NMSDC-certified Minority Owned Business. SodexoMAGIC's corporate promise is to empower the communities they serve by offering best-in-class food and facilities management services that create a positive impact and make a difference in the lives of clients and customers.
About Grambling State University
Grambling State University, located in Grambling, Louisiana, is a historically black university founded in 1901 that combines the academic strengths of a major university with the benefits of a small college. This combination enables students to grow and learn in a serene and positive environment. The 590-acre campus offers 43 undergraduate and graduate academic programs. A member of the University of Louisiana System, Grambling State University has been accredited by 13 accrediting associations and holds accreditations in all programs required by the Louisiana Board of Regents. With a longstanding tradition of excellence, Grambling State University continues to emphasize the value and importance of each student, exemplified by our motto: Where Everybody Is Somebody.