Grambling State VP named CVB Board of Directors Chairman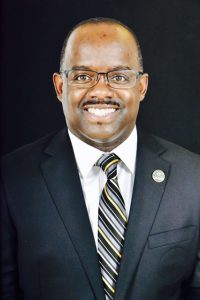 RUSTON, LA – (January 12, 2021) The Ruston-Lincoln Convention & Visitors Bureau (Experience Ruston) has named Marc Newman, Vice President for Institutional Advancement, Research, and Economic Development at Grambling State University, Chairman of the Board of Directors for 2021. Newman moves into the role in January 2021 following Andy Durrett who served January-December 2020.
"Our Board of Directors serves a vital role in helping our organization fulfill its mission," says CVB President & CEO Amanda Carrier. "It's more important now than ever to have individuals who are passionate about seeing Lincoln Parish thrive.
We successfully navigated the trials of 2020, and we're looking forward to a prosperous year ahead with Marc's leadership."
Newman has been with GSU for 4 years expanding the university's fundraising efforts and economic development opportunities. He has served on the CVB Board since 2015.
"I look forward to serving the Ruston Lincoln Convention & Visitors Bureau, and I am excited to be a part of the growth opportunity that exists in this region," says Newman. "I look forward to working with the exceptional CVB staff, our universities, businesses, political leadership, and other stakeholders to attract events and showcase all that Lincoln Parish has to offer."
Also serving on the executive committee of the CVB Board of Directors are Vice Chairman Paul Kabbes of LA Tech and Treasurer Josh Perot of First National Bank, Treasurer.
About the Ruston Lincoln Convention & Visitors Bureau
The Ruston Lincoln Convention & Visitors Bureau is a destination marketing organization that works to create, preserve and enhance a variety of quality visitor experiences through the promotion of Lincoln Parish. For more information, visit www.experienceruston.com.
About Grambling State University
Grambling State University, located in Grambling, Louisiana, is a historically black university founded in 1901 that combines the academic strengths of a major university with the benefits of a small college. This combination enables students to grow and learn in a serene and positive environment. The 590-acre campus offers 43 undergraduate and graduate academic programs. A member of the University of Louisiana System, Grambling State University has been accredited by 13 accrediting associations and holds accreditations in all programs required by the Louisiana Board of Regents. With a longstanding tradition of excellence, Grambling State University continues to emphasize the value and importance of each student, exemplified by our motto: Where Everybody Is Somebody.