Dates set for Spring 2021 commencement exercises
Ceremonies to be held April 14, 15 in Fredrick C. Hobdy Assembly Center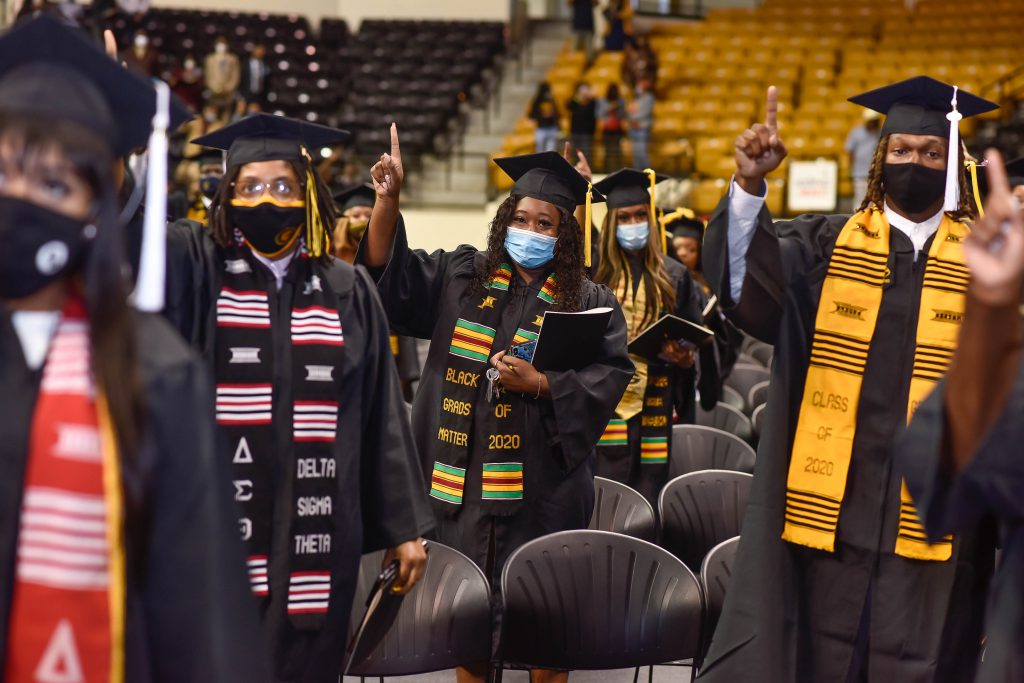 GRAMBLING, La. – March 31, 2021 – Grambling State University will celebrate its Spring 2021 graduating class with commencement ceremonies on Wednesday, April 14, and Thursday, April 15. Scheduled to begin at 9:00 a.m. each day, the events will be held in the Fredrick C. Hobdy Assembly Center and streamed live on Grambling State's YouTube channel.
On April 14, degrees will be conferred upon graduates from the College of Education (Kinesiology, Leisure Studies, Teacher Education degree programs), College of Professional Studies (Undergraduate students with majors in Criminal Justice, Mass Communications, Nursing, Psychology, Social Work, Sociology), and select degree programs from Graduate Studies (Doctor of Education, Master of Arts in Teaching, Master of Education in Special Education, Master of Education in Curriculum and Instruction, Master of Science in Criminal Justice, Master of Science in Developmental Education, Master of Science in Sports Administration, Master of Science in Nursing, Master of Social Work, Post Master's Certificate).
The April 15 ceremony will confer degrees upon graduates from the College of Business
(Accounting, Computer Information Systems, Economics, Management, Marketing), College of Arts & Sciences (Biology, Chemistry, Child Development & Early Literacy, Computer Science, Cybersecurity, Engineering Technology, English, General Studies, History, Mathematics & Physics, Music, Political Science, Visual & Performing Arts), and select degree programs from Graduate Studies (Master of Arts in Social Sciences & Master of Public Administration).
Graduates will be allowed a maximum of six guests in attendance at each ceremony. Social distancing will be practiced with seating and masks must be worn during the event. For more information, please visit www.gram.edu/graduation.
About Grambling State University
Grambling State University, located in Grambling, Louisiana, is a historically black university founded in 1901 that combines the academic strengths of a major university with the benefits of a small college. This combination enables students to grow and learn in a serene and positive environment. The 590-acre campus offers 43 undergraduate and graduate academic programs. A member of the University of Louisiana System, Grambling State University has been accredited by 13 accrediting associations and holds accreditations in all programs required by the Louisiana Board of Regents. With a longstanding tradition of excellence, Grambling State University continues to emphasize the value and importance of each student, exemplified by our motto: Where Everybody Is Somebody.