Credits family, faculty, perseverance for historic milestone
by Bobbie Handcock | Office of University Communications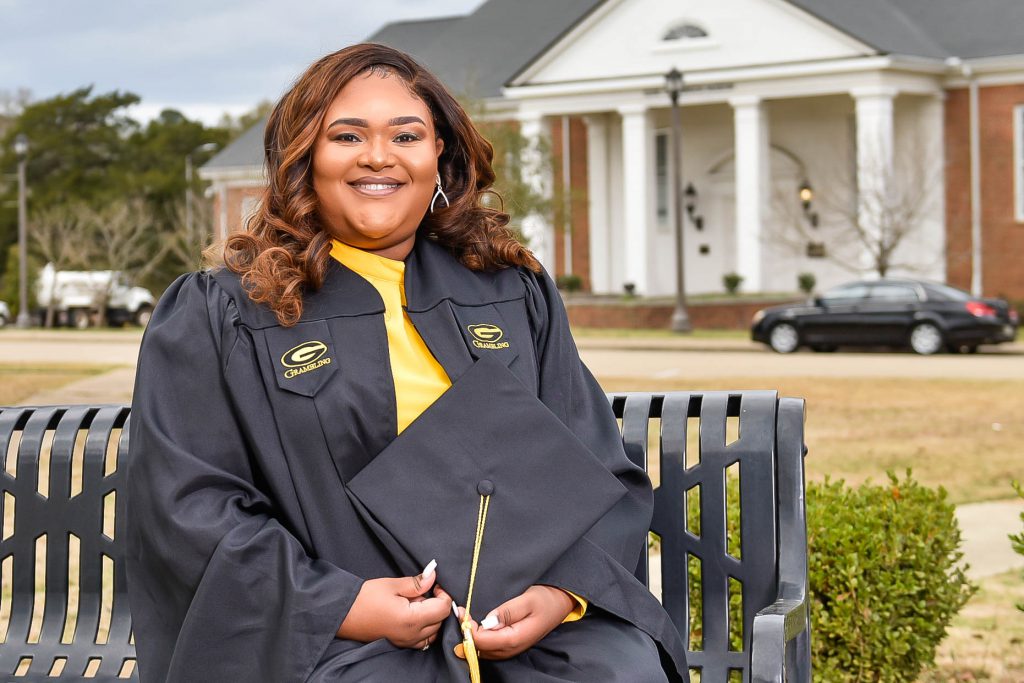 At a time when data breaches are making headlines, Alexis White is set to embark on a career that's all about keeping sensitive data safe. The Arcadia, Louisiana native will be the first graduate of the cybersecurity program at Grambling State University. It's not the path she initially chose but she's glad she took it.
The degree connects students with research leaders and working professionals who specialize in combating cyber-crimes, big data, cloud computing, vulnerability assessment, and more.
White was in her junior to senior year of a biology degree when Grambling announced the addition of the cybersecurity degree. "I knew I would regret it if I did not give myself the opportunity to really live out all my interests especially since I had loved science since Barney was mixing blue and yellow to make green paint," she says. "I made the decision to pursue the degree by doing a bit of research and after speaking with (computer science professor) Dr. Reddy and my parents, it was a done deal."
.
Dr. Yenumula Reddy, department head, professor, and program coordinator for the Department of Computer Science and Digital Technologies at GSU, describes White as hardworking, intelligent, and well-prepared. She worked very diligently to complete the program and that shows her strong willpower, he says.
"Grambling and the department are proud of the first graduate and her name will be in GSU history," Reddy says.
White has long had an interest in computer science. She attended New Tech at Ruston High School and, in her freshmen year, was selected to participate in the Cyber Security Camp at Louisiana Tech.
"I was later picked for AP physics and this is where I really started learning how to code robots which led to me joining the robotics team," she says.
Although White began at Grambling as a biology major, the cybersecurity program is a great fit and she welcomed the challenge. "Biology is not easy by any means but the analytical side to cyber really made me focus and consider material from a different perspective…" she says. "I will say my study and learning style changed a bit. It took a couple of semesters to really get that this is different, but you can do this."
White completed her bachelor's degree in biology and a minor in business management in the spring of 2018. She will be awarded a bachelor's degree in cybersecurity on April 15.
After graduation, she will complete Clinton Global Initiative classwork and later begin an apprenticeship as a cyber analyst in governance risk and compliance at Deloitte Touché Tohmatsu Limited. The company provides a variety of services including audit and assurance services, regulatory services, and risk and financial advisory services.
White says she would not be where she is today without the support and examples set by her parents Donald and Valerie White. Her father is Dean of the College of Business at Grambling who always encouraged her to do well in school. She has many fond memories of being on campus and decided early on that she wanted to attend GSU. Her mother served in the U.S. Airforce, retiring as a lieutenant colonel.
"I had so much pride seeing my mother wear her uniform, symbolizing strength, duty, courage, and heroism," she says.
White says her entire family inspires her – especially her grandmothers.
"My grandmothers, Vera Scott White and Gatha Heard Smith, were absolutely my world growing up. I mean they carried themselves with such grace and once again were captains of our family after losing my grandfathers…," White says. "I would say my demeanor and how I face issues really comes from them. They also were the ones to instill Christ in me alongside my parents. My parents put every ounce of knowledge and wisdom they could into me from an early age and it has really helped me.'
As she nears graduation, White says she wants people to know that "my journey was not easy, but it was achievable. If you can get yourself to think positively, keep going no matter the opposition and just do it – as Nike says – it can be done."
She thanks her parents, professors, mentors, and others who put time and work into her. "I just want them to know just how grateful I am for the lessons and opportunities that they have given me."
About Grambling State University
Grambling State University, located in Grambling, Louisiana, is a historically black university founded in 1901 that combines the academic strengths of a major university with the benefits of a small college. This combination enables students to grow and learn in a serene and positive environment. The 590-acre campus offers 43 undergraduate and graduate academic programs. A member of the University of Louisiana System, Grambling State University has been accredited by 13 accrediting associations and holds accreditations in all programs required by the Louisiana Board of Regents. With a longstanding tradition of excellence, Grambling State University continues to emphasize the value and importance of each student, exemplified by our motto: Where Everybody Is Somebody.