Despite Bayou Classic loss, GSU officials, fans grateful to carry on the tradition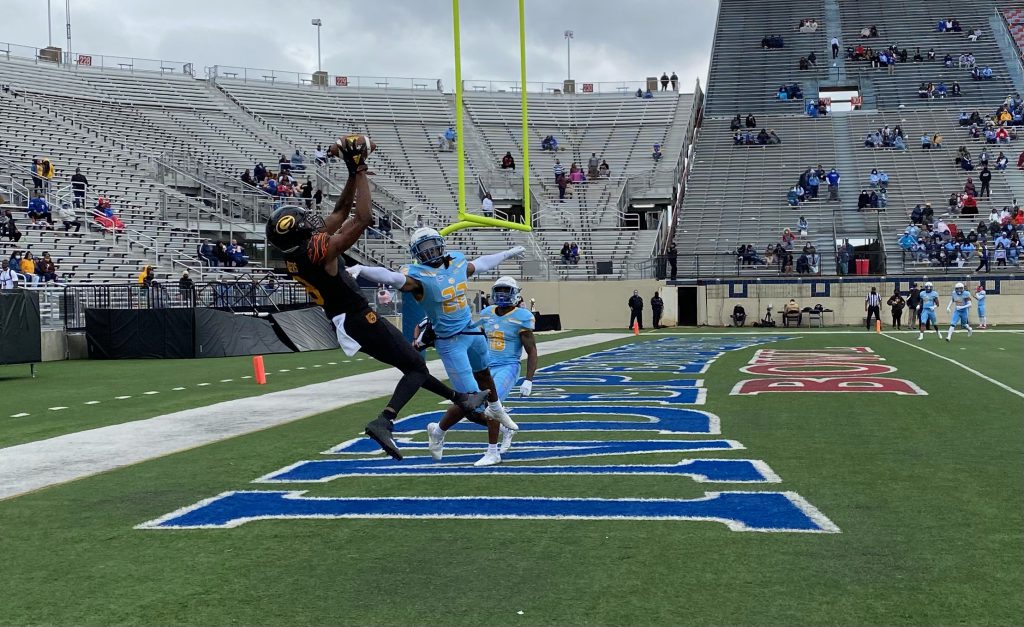 by Bobbie Handcock
SHREVEPORT, La. – April 17, 2021 – In the long-awaited, much-anticipated 47th Annual Bayou Classic on Saturday, Grambling State University fell to Southern University by a score of 49-7. The game, held this year in Shreveport's Independence Stadium, was a long time coming for GSU officials and fans. And although disappointed by the loss they were grateful that the GSU Tigers got to play despite setbacks related to the COVID-19 pandemic.
Before kickoff, GSU Athletics Director David Ponton said it's a great day whenever the two teams get together to battle it out. It's all about comradery and competition, he said, predicting that the Tigers would "go out there and play their hearts out."
Although they did, the offense struggled while the defense had its highs and lows, said GSU fan Lewis Matthews, who coaches at a nearby high school. Boasting a red Grambling sweatshirt and red shoes, he cheered on his son, GSU linebacker Lewis Matthews II, and the rest of the team.
"We have room for a lot of improvement," he said. "Grambling has a very young team. This fall should be great for us. This incoming class should give us a huge boost."
GSU and Southern squared off in the long-anticipated game in April in Shreveport instead of the usual Thanksgiving weekend in New Orleans due to the pandemic. Before Saturday's game, the series was tied between the Tigers and the Jaguars – each tallying 23 wins. In the end, Southern University came out on top with 24 victories.
The matchup, which is nationally televised, took place in front of a socially distanced crowd that largely wore masks except when eating or drinking. Many fans bundled up in blankets, hats, and jackets to brave temperatures that dipped into the high 50s.
Deatra and David Smith, of Shreveport, were glad that the game was close to home, saving them the drive to New Orleans. They are GSU Class of 1988 and 2003 graduates, respectively.
"We're glad to be able to get out and fellowship with other fans and just have the game experience," Deatra Smith said.
"For me, this is a chance to get out with university alumni and fans," said 2004 GSU graduate Andrew Wilson. "It feels like home."
Wilson, of Shreveport, wore a stylish, denim jacket adorned with tiger emblems, Gs, HBCU and more. "I've had this jacket for two years but because of the pandemic, I didn't get to wear it."
Some fans found themselves with ties to both universities.
Jerry Carter, who graduated from Southern in 2020, supported his GSU Tiger son, Javon Carter, during Saturday's game.
"It's always an awesome experience when two of the greatest HBCUs come together for a great football game," he said, adding that "Grambling is his story. Southern is my story."
Janice Hurks, of Oakdale, wore a Grambling State University T-shirt and a Southern University necklace. She attended GSU but didn't graduate and went on to earn an associate's degree from Southern.
"I'm glad the game was held," she said. "It's wonderful when we can gather like this."
New Orleans native Casmè, of Season 19 of NBC's The Voice (Team Legend), performed the national anthem during the Bayou Classic. There was no dynamic eye-catching, ear-filling Battle of the Bands this year between the two historically black Louisiana colleges. SWAC regulations limit all travel for SWAC member institutions' bands for health and safety reasons during the Spring 2021 football season. The halftime show featured highlights from past Bayou Classic games and top halftime show moments from 2015 to 2019, presented by Proctor and Gamble.
Walter George, a 1973 graduate of GSU and a former member of the World Famed Tiger Marching Band, said he was happy that the game didn't get cancelled. And although he understands the safety precautions, he really missed the bands.
"I hate it," he said. "It was part of the whole experience – us going against them and them going against us."
Ruston resident Terry Jordan (GSU Class of1982 and 1989) attended the game with his aunt, Nannie Jordan-Lewis (Class of 1965). Although the Tigers may have lost the traditional battle to the Jaguars this time, he predicted "we'll get them next time."