Annual report, State of Grambling 2020: Building What's Next released
From full reaccreditation to exciting new degree programs to a 100% improvement in its financial health score, Grambling State University is building the future it wants to see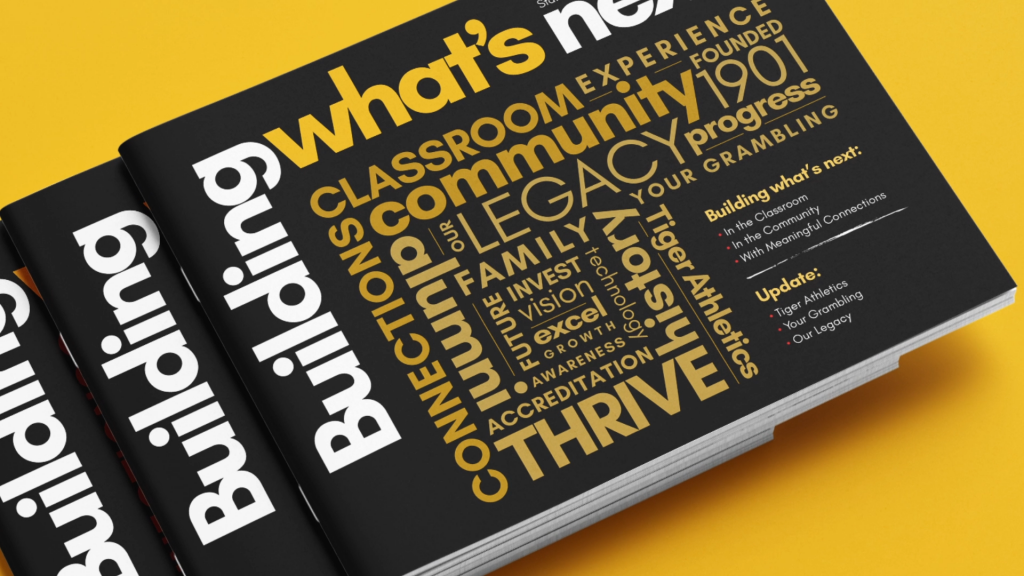 GRAMBLING, LA – April 19, 2021 – Today, Grambling State University released its annual report, The State of Grambling 2020: Building What's Next. The report reflects significant growth and notable achievements, despite the global pandemic, social unrest, and a struggling economy.
"In spite of all that happened in 2020, Grambling State University has continued to thrive in the classroom, with corporate partners, and in the community," said President Rick Gallot. "As a result, our efforts yielded many defining moments and achievements that galvanize the vision we have for the future of the institution."
Some of the defining moments in 2020 included full reaccreditation from the Southern
Association of Colleges and School's Commission on Colleges (SACSCOC) for the next 10 years, successful financial audits of the University and Foundation with no findings, and a 100% increase in the University's composite financial health score. Enrollment is also up 4%, fueled by a 42% increase in the freshman class while new degree programs in cybersecurity and cloud computing offer students strong career opportunities. The State of Grambling 2020 shares many more moments and recognizes the many partners and supporters who helped make this year memorable.
"Grambling State stakeholders – students, faculty and staff, alumni, and partners – keep us motivated," said Marc Newman, Vice President for Advancement, Research and Economic Development. "We've had many blessings this year, but we also have a big vision for Building What's Next. Your investment helps support a lasting legacy of excellence. We thank everyone for their continued engagement."
"As you review The State of Grambling 2020, it is my hope that you see the talent of our amazing students and the caliber of work done by driven faculty, staff, and administrators with the help of partners that believe in the mission of Grambling State University," adds Gallot. "Although a lot has been accomplished, more must be done. It is our belief that anything is possible at the place where everybody is somebody."
To view the report, visit gram.edu/stateofgrambling.
About Grambling State University
Grambling State University, located in Grambling, Louisiana, is a historically black university founded in 1901. The University has been accredited by 13 accrediting associations and holds accreditations in all programs required by the Louisiana Board of Regents. The 590-acre campus offers 43 undergraduate and graduate academic programs. Grambling State University is a member of the University of Louisiana System. For more information, visit gram.edu.