Grambling, Southern researchers unite for Bayou Classic 2020-21: A Battle of the Sciences  
Collaborative white paper discusses water quality management, toxicology
by Bobbie Handcock | Office of Communications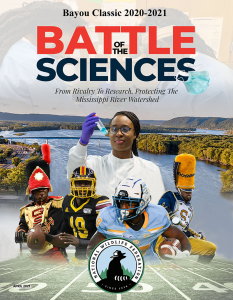 GRAMBLING, La. — May 5, 2021 —  When the coronavirus pandemic canceled the 2020 Bayou Classic, Simone Lightfoot looked for another way that Grambling State University (GSU) and Southern University (SU) could go head to head – but this time academically. Lightfoot, associate vice president of Environmental Justice and Climate Justice at the National Wildlife Federation, didn't want the federation's sponsorship in year three to simply end – so in lieu of a football contest, she thought of a science battle.
"With no football game, my imagination led to this idea of battling (collaborating) around science and water (the Mississippi River) instead of the game and minus the halftime show," Lightfoot said.  "Just replace them both with plenty of science and research."
That's how the Battle of the Sciences was born. What resulted is the "Bayou Classic 2020-21: A Battle of the Sciences Booklet." It is hoped that the work can have an impact on where decision-makers decide to allocate funds related to the Mississippi River environment.
"University leadership (GSU and Southern), the faculty, and the young scholars from Grambling and Southern were wonderful," Lightfoot said, adding that various community partners, including the Lower Ninth Ward Center for Sustainability Engagement & Development in New Orleans, helped the project come together.
"This was truly a team effort," she said.
"Our GSU students did an amazing job with gathering information for the included white paper," said Dr. Waneene Dorsey, a professor at Grambling State. "The Water Quality Management and Principles of Toxicology courses that I teach allowed for the contributing students and myself to create a document that will be viewed by the GSU alumni, GSU fans, funders, and representatives and senators on Capitol Hill via the National Wildlife Federation. Likewise, Southern University and its alumni will also see our great contribution to the sciences."
Dr. Dorsey said that "our contributions to the white paper will help people on Capitol Hill make decisions about allocating money in our communities that are affected by the ills of toxic air and contaminants that spill into the Mississippi River."
She explained that the purpose of the white paper was to do an exhaustive search of the Internet that discussed the effects of petroleum chemical companies on global warming, the health of African American communities, and wildlife in the Mississippi River Delta.
"GSU student researchers found that many African American communities are in proximity of petrochemical industries and the people who stay in these communities have cancer and are very ill," Dr. Dorsey said.
The young researchers also found that the Mississippi River Delta is known for its global seafood supply.  However, when engineers put dams in various waterways, it caused deleterious effects on an oyster bed, she said.
"The oyster industry in Louisiana is the largest oyster producer in the nation," Dr. Dorsey said, adding that wetlands are important to the state.
"The removal of wetlands around the New Orleans area was instrumental in causing the hurricane Katrina flooding aftermath because there were no root systems from the cypress trees in wetland ecosystems to contain the water," she said. "Therefore, water poured into New Orleans like it was a bowl."
GSU students who were research scholars:
Steven Wilson, a biology student and recent graduate, wrote about "Cancer Alley."
Harry Hooker III, a chemistry student and recent graduate, wrote a toxicology piece that talked about "Rushing to Exhale and Being Black and Breathing."
Jynelle Liverpool, a biology student and recent graduate, wrote about" Food Markets and the Mississippi River Delta Watershed."
"We must continue to research and write about our findings so that elected officials, policymakers, and residents can make improvements to protect essential human rights, solve public health concerns, and ensure the long-term viability of the environment." Dr. Dorsey concluded.
About Grambling State University
Grambling State University, located in Grambling, Louisiana, is a historically black university founded in 1901 that combines the academic strengths of a major university with the benefits of a small college. This combination enables students to grow and learn in a serene and positive environment. The 590-acre campus offers 43 undergraduate and graduate academic programs. A member of the University of Louisiana System, Grambling State University has been accredited by 13 accrediting associations and holds accreditations in all programs required by the Louisiana Board of Regents. With a longstanding tradition of excellence, Grambling State University continues to emphasize the value and importance of each student, exemplified by our motto: Where Everybody Is Somebody.