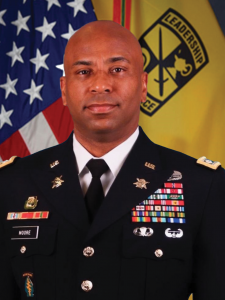 GRAMBLING, La.  – May 27, 2021 – Lt. Col. Mason Moore, professor of military science at Grambling State University (GSU), said observing Memorial Day is important because "we couldn't enjoy the freedoms that we have without the sacrifices of the men and women who have served this great nation."
People across the country will be observing the day on May 31. Grambling State University will be closed Friday, May 28 and Monday, May 31 in observance of the holiday.
"For me, Memorial Day is a time for remembrance of all of those who have made the final sacrifice for our country and its way of life," he said. "Personally, it is a time where I reflect back on my five combat deployments and remember those who I have known."
Moore said he always tells the story of one of his really good friends who lost his life to a "blue on green" incident.  It's where a foreign partner/ally either accidentally or intentionally kills an American service member. His friend, Raymond Estelle, was an Air Force officer on his first deployment in the first week of that deployment. To learn more, visit https://thefallen.militarytimes.com/air-force-maj-raymond-g-estelle-ii/6393971.
"So, my reflection is usually a combination of wonder, guilt, anger, and thanks –  all at the same time," he said. "Memorial Day is a gut check for me…it motivates me to be the best that I can possibly be knowing that others have sacrificed so that I can be here today."
Moore likes to make a clear distinction between Memorial Day and Veterans Day.
"Memorial Day honors those who have made the ultimate sacrifice while Veterans Day honors those who have or continue to serve," he said. On Memorial Day, you may visit a cemetery or sit back on the lake with friends and tell stories of the fallen or have your own personal reflections.
"Either way one observes this day, our citizens should realize that someone has paid the ultimate sacrifice for them to enjoy all of the freedoms and liberties that they currently enjoy and are entitled to," Moore said.
Families, friends, and military service members are affected by those who have lost their lives, he said.
"I just had a Gold Star Family (one who has lost a family member in war time service) that attended our commissioning ceremony at LA Tech last week," Moore said. "The mother and father were aunt and uncle to one of my cadets. Their son had perished in Al-Ramadi, Iraq in 2007 while serving in the Marine Corps. So, although less than 10% of the American population even serve in the militar), their family and friends are affected by their loss."
He added that Memorial Day is also a day where Posttraumatic Stress Disorder (PTSD) can affect those who have served in the military.
"With reflection can come grief, guilt, depression, etc." he said. "Any loss of life to PTSD is tragic and unnecessary. I hope that our brothers and sisters in arms will reach out for help if they need it or that their friends and families will be there for them to assist in getting them the care that they need." For more information about PTSD, visit https://www.ptsd.va.gov/gethelp/crisis_help.asp.
About Grambling State University
Grambling State University, located in Grambling, Louisiana, is a historically black university founded in 1901. The University has been accredited by 13 accrediting associations and holds accreditations in all programs required by the Louisiana Board of Regents. The 590-acre campus offers 43 undergraduate and graduate academic programs. Grambling State University is a member of the University of Louisiana System. For more information, visit gram.edu.