Grambling Accepting Applications for Post-Bachelor Advanced Supervision Certificate Program
by Bobbie Handcock | Office of Communications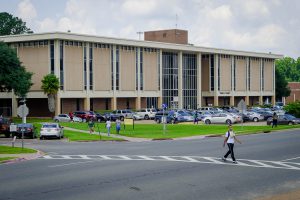 GRAMBLING, La.  –   June 1, 2021 –  Grambling State University is offering Louisiana Department of Children and Family Services (DCFS) staff and others an opportunity to earn a certificate in advanced supervision. Applications are being accepted for the new Post-Bachelor Advanced Supervision Certificate Program which is offered through the university's School of Social Work. It consists of 18 hours of core courses to be completed within one academic year.
The program is the result of a workforce development partnership with DCFS and the Louisiana Child Welfare Training Academy (LCWTA). The coursework is beneficial for anyone working for human services organizations and aspiring to become a premier supervisor or manager. Any individual with a bachelor's degree can apply.
The certificate program allows participants to gain theoretical and practical knowledge and skills in leadership and supervision in their particular work environment, said Evelyn Jenkins, School of Social Work Title IV-E Child Welfare program coordinator who is overseeing the certificate program.
"Working with children and families is very rewarding and multifaceted. Professionals in these careers must possess eclectic and specialized knowledge and skills to address the plethora of issues and challenges presented to them," Jenkins said, adding that supervisors must be able to lead by providing educational, administrative, and supportive supervision.
Learners in the program will be able to provide strength-based supervision that contributes toward the creation of an organizational culture that promotes learning, inclusiveness, equity, ethical behavior, and relational transparency, she said.
"The School of Social Work is excited to be offering the Post-Bachelor Advanced Supervision Certificate," Dr. Jacqueline Garrison, associate dean of the School of Social. "Through the Title IV-E Child Welfare Grant, the School works in partnership with the Department of Children and Family Services to recruit, educate and train students for competent practice at DCFS upon graduation."
She said the certificate program allows the School of Social Work to expand and enhance the partnership with DCFS.
"This certificate program allows the School of Social Work the opportunity to support DCFS in addressing the need to have competent professionals available to provide supervision and leadership to its front-line caseworkers," Garrison said, adding that the program also allows the School to honor the goal of becoming a leader in the academic marketplace and professional community for social work training and education in the area of child welfare.
"This program will have a positive impact on DCFS workforce and on services provided to children and families in the state of Louisiana," she said.
For the criteria for admission to the program and the application, visit Post-Bachelor Advanced Supervision Certificate Program.
In addition to the program application, those interested must submit the application for the School of Graduate Studies which is web-based.
Applications to School of Social Work and School of Graduate Studies must be submitted by July 1, 2021, for fall semester and December 1, 2021, for spring semester.
For more information about the program, contact Dr. Jacqueline Garrison at garrisonj@gram.edu .