GSU Senior Awarded Scholarship, Stipend & Fellowship Through Chevrolet's Discover the Unexpected/NNPA Program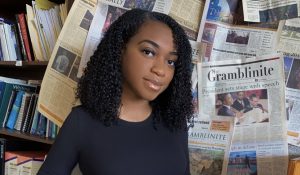 GRAMBLING, La. – June 3, 2021 – Jasmine Franklin, a senior at Grambling State University, has been awarded a scholarship, stipend and virtual fellowship made possible by Chevrolet and the National Newspaper Publishers Association (NNPA).
Franklin, a mass communications major from Chicago, Illinois, credits her work at the university's student newspaper, The Gramblinite, as a major factor in achieving the awards.
"I am honored to represent Grambling as the first GSU student to participate in this program," Franklin said. "I'm grateful to Chevrolet for investing in my future and awarding me a scholarship that will cover my college expenses for my entire senior year. I couldn't have done it without my experience as editor-in chief of The Gramblinite."
Chevrolet's Discover the Unexpected/NNPA Program provides a $10,000 scholarship, $5,000 stipend and a virtual journalism fellowship connected with Black-owned publications including The Atlanta Voice, The Chicago Defender, and The Houston Forward Times.
Given the need for more diversity in journalism, Franklin said she is excited to work for a Black-owned newspaper this summer. She plans to strengthen her skill set and take the knowledge she learns back to The Gramblinite to improve the paper.
About Chevrolet's Discover the Unexpected Program
Chevrolet and the National Newspaper Publishers Association (NNPA) give HBCU students an opportunity to Discover the Unexpected (DTU) about their communities, their careers and themselves. Students from varied backgrounds and experiences will report on inspirational stories in the Black community while creating content for various social media platforms. With interests ranging from writing and production to videography and photography, each fellow will report and produce unique stories that will last a lifetime. Using NNPA's professional resources, and the All-New Chevrolet Bolt's innovative technology, DTU Fellows will share stories that shatter perceptions, push boundaries, and encourage everyone to Discover the Unexpected.
About Grambling State University
Grambling State University, located in Grambling, Louisiana, is a historically black university founded in 1901 that combines the academic strengths of a major university with the benefits of a small college. This combination enables students to grow and learn in a serene and positive environment. The 590-acre campus offers 43 undergraduate and graduate academic programs. A member of the University of Louisiana System, Grambling State University has been accredited by 13 accrediting associations and holds accreditations in all programs required by the Louisiana Board of Regents. With a longstanding tradition of excellence, Grambling State University continues to emphasize the value and importance of each student, exemplified by our motto: Where Everybody Is Somebody. For more information, visit gram.edu.