Unanimous House and Senate Votes Pass Historic Louisiana Diversity Sports Hiring Bill
HCR-19 to transform outlook for college head coaching roles through The Doug Williams Center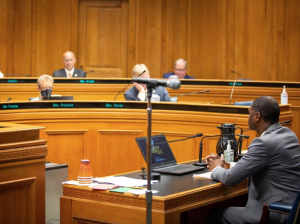 June 14, 2021 – District 58 Representative Ken Brass's historic bill to increase statewide hiring of people of color to sports administration roles has passed through the House of Representatives and Senate with unanimous support. This was round four of the five-step Louisiana legislative process; next HCR-19 will be presented to Governor John Bel Edwards for signature.
"The approval of this bill with no dissenting votes proves that all members of the House of Representatives and Senate are committed to creating fairness and representation in the process of hiring Louisiana's most critical sports leadership roles," said Brandon A. Logan, Executive Director of The Doug Williams Center. "We are confident that the Governor will be equally enthusiastic about prioritizing progress."
Once the bill has been accepted by the Governor, its key initiatives will be implemented by The Doug Williams Center. The first act of the HCR-19 will be the development of the Louisiana Minority Sports Initiative Task Force, which will devise a plan to develop a more diverse group of candidates for head coach and athletic director positions at public postsecondary education institutions. The Center will assemble and give oversight to the task force, whose members will include Board of Regents Higher Education representatives, university presidents and directors of athletics, representatives of the New Orleans Pelicans and Saints, along with private sector business owners.
Learn more about HCR-19. Read the HCR-19 bill.
About The Doug Williams Center

Founded in 2020, The Doug Williams Center exists to build an ever-growing network of solutions for diversity and inclusion in collegiate and professional sports. The Center is a learning commons and advancement space for audiences to examine the history of race and politics in American sports and build holistic perspectives on the cultural impact to provide resources for ongoing social progress. With the support of its esteemed Advisory Board and multi-disciplinary academicians, the Center offers thought leadership and practical resources to sports industry entities. A hub for academic of research and development, The Doug Williams Center is an affiliate of Grambling State University.
Contact:
Raven Thissel
Marketing & PR Director
The Doug Williams Center
rthissel@dougwilliamscenter.com
(318) 436-6860